VOLLEYBALL MARATHON: Eskymos Stop Miners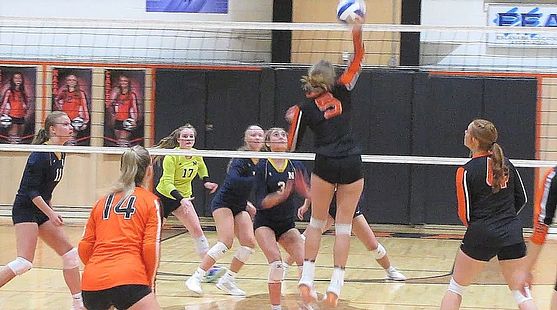 Click the thumbnails to see photos and video highlights. Also listen to interviews with Sophie Lehto and Zoe Wilson, and with both teams' coaches.

ESCANABA---The Escanaba Eskymos and Negaunee Miners went the distance in volleyball Tuesday night, with the Eskymos pulling off a 3-2 win at the Escanaba High School Gym.

The scores were 25-17, 27-25, 23-25, 16-25, 15-11.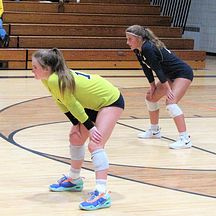 It was an intense battle all night long, with the Eskymos seemingly in control after rallying to win the second set in overtime, and holding a 23-22 lead in the third set.

But not only did the Eskymos not get the final two points to close out a 3-0 sweep, the Miners won the set, and the visitors dominated the fourth set from start-to-finish.

In the fifth set, however, Escanaba jumped to a 10-3 lead and held off another Negaunee challenge to win the match by four points.

"I think Negaunee was super-motivated to come back," Escanaba Coach Adam Lambert said. "They're a great team. They beat us in a tournament back in August. So, we knew that they were hungry. But my girls stuck with it mentally tonight. They perservered. They got through it. We had good chemistry out there tonight. I was really pleased with what was going on."

Negaunee Coach Krista Squiers was also proud of her team.

"To come back and fight, and to fight hard, it just proves that they've got what it takes," Squiers said. "We always hope to come out with a win. I'm not satisfied with a loss. But I'm satisfied with our play. And I know we've got more in the tank."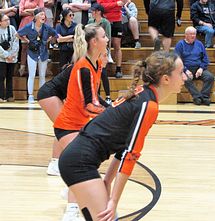 Squiers says the Miners really didn't change much after losing the first two sets. She says the girls just got more determined, and more focused.

"I just said 'get off the bus, girls', because you're still sitting on it,'" she said. "And so, there they went."

Indeed, the Miners turned the tables on the Eskymos, tying the match, and taking the momentum into the fifth set. Then, it was Escanaba's turn to dig deep.

"We just kind of talked it out, and we just figured out where our spots were and where we were going wrong," Eskymo Sophie Lehto said. "After that, we felt pretty good. It means a lot because we lost to this team last time."

"We really wanted it," Eskymo teammate Zoe Wilson said.. "We've had a rough start to the season. We're finally working together now, so it felt really good."

Perhaps the biggest play of the match came in the fifth set when Negaunee's Madison Pekrul spiked one toward the back line.

That's when Wilson came out of no where, dove, and got a big dig to keep the play alive. The ball went back and forth, with Lehto getting three different cracks at it. Finally, on the third try, she got the kill in front of the Negaunee back row, giving Escanaba a 7-3 lead.


"That was unbelievable, the way she just dove for that," Lambert said. "She hit the ball, rolled out of it. We got the point on that one, and it was an incredible dive."

"It felt good, but my knee hurts now and it's a little bloody," Wilson said, showing off a bloody knee that the trainer had to wrap up on the fly. "My team definitely got that point for me!"

Escanaba improved to 3-8 on the season, bouncing back after three losses to tough, taller teams at a tournament over the weekend in Traverse City.

The Eskymos return to action next Tuesday against the Gladstone Braves in Gladstone.

Negaunee fell to 4-4 on the season. The Miners host the Houghton Gremlins this Thursday.



TUESDAY'S OTHER U.P. VOLLEYBALL SCORES
MANISTIQUE 3, GWINN 0 (25-17, 25-9, 25-14)

ISHPEMING 3, GLADSTONE 1 (25-19, 25-19, 21-25, 25-16)

CALUMET 3, MARQUETTE 0 (25-21, 25-9, 25-12)

SUPERIOR CENTRAL 3, NORTH CENTRAL 0 (25-22, 25-21, 25-23)
FOREST PARK 3, NORTH DICKINSON 0 (25-18, 25-15, 25-16)

BARAGA 3, WATERSMEET 0 (25-14, 25-16, 25-10)


BESSEMER 3, ONTONAGON 0 (25-10, 26-24, 25-11)

RUDYARD 3, BRIMLEY 0 (25-15, 25-15, 25-23)
PAINESDALE-JEFFERS 3, DOLLAR BAY 0 (25-16, 26-24, 25-14)

IRONWOOD 3, HURLEY 0 (25-13, 27-25, 25-14)

EWEN-TROUT CREEK 3, LAKE LINDEN-HUBBELL 2 (25-23, 20-25, 18-25, 25-23, 15-12)

SAULT STE. MARIE 3, CHEBOYGAN 2 (25-14, 29-31, 22-25, 25-14, 15-10)