Escanaba Outlasts Gladstone In HS Volleyball Battle
Click the thumbnails for photos, videos, and post-game interviews with both head coaches. Also click the AUDIO button to listen to comments from Escanaba foreign exchange student Andrea Cerma.
ESCANABA---The Escanaba High School volleyball team held off an upset-minded Gladstone Braves team Thursday night, 3-1. The scores were 28-26, 25-18, 15-25, and 25-18.

But it was a much more competitive match than the ones the past couple of years, when the Eskymos skated to easy 3-0 wins. This time, Escanaba had to come from behind to win the first set, then actually lost the third set before closing things out in the fourth game, Escanaba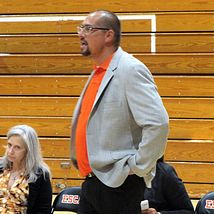 Coach Adam Lambert says his team is still trying to get its feet on the ground, with this only being the team's third match of the season.

"We're pretty determined here on our home court to kind of hold or own," Lambert said. "We got a little sloppy on some things, but we're gonna call it: the season's new yet. We've got great athletes on the court, and we've just got to make sure that we make them one team still."
Gladstone first-year head coach Kaitlyn Hardwick was pleased, despite the loss.

"I can't tell you the last time Gladstone has won a game against Escanaba on varsity," Hardwick said. "So, it was pretty awesome to see those girls light up and smile on that. I think the girls finally believed that they could do it.

Gladstone led the first game, 19-14, before the Eskymos rallied to steal the victory, 28-26, in a lively, intense, and loud match-up. Then Escanaba won the second game pretty easily, 25-18, so it looked like the Braves were in store for another 3-0 loss.

Not so fast. Gladstone came out determined, the Eskymos may have been a little flat, and the Braves picked up their biggest win against their rivals in several years, 25-15.

The Eskymos, however, didn't panic. They went back to what they do well, the Braves struggled (especially on the serve), and the Eskymos won the fourth game, 25-17, and the match, 3-1.

Escanaba has a foreign exchange student on the roster this year: Andrea Cerma, from Italy.

She says it was a fun evening, albeit stressful.

"It was a rough game, mentally, but we tried so hard, and we tried to get off of our bad moments," Cerma said. "We did a great job. I like it so far here. I went to the Fair. The guys are funny. I'm here to grow as a person, both mentally and physically. I tried my best and I think I did great, and in the other two matches. The girls are so friendly and so nice, and they have welcomed me as a person into their family."

Lambert says his girls had to change their strategy after a frustrating start that saw so many strong hits go just long, or just wide.

"We want to be a heard-hitting team, and so I tell the girls, go out there and swing hard," Lambert said. "But I also said, if we can't find the court, we'll have to pull it back a bit and get some accuracy. Tonight, we tried swinging hard and, yep, we needed more than 900 square feet tonight. We probably needed 1,200 to hit the court. So, we let off a little bit, We'll get the accuracy down. We'll hammer it out in practice."
The Braves have struggled to win any games, let alone matches, in recent years. But they're playing hard this season, having won two games against Menominee in their season-opener before suffering a heartbreaking 3-2 loss.

Then came a 3-0 loss to a very strong Manistique team. The Braves, though, came out fired up Thursday night against their cross-bay rivals.

"We were really excited to get here tonight," Hardwick said. "We scrimmaged them prior to our first game, and we got to see some things that Escanaba did. We were able to capitalize on some of those things to get that one win in this match today. I think we got in their heads a little bit, because we were able to do some things that we weren't able to do in the past. We got to do a couple trick plays off of freeballs. It felt great."

Escanaba improved to 2-5 on the season, while Gladstone fell to 0-3.

The two teams will meet again on Sept. 19 in Gladstone. The Eskymos are off until next Tuesday, when they take on the Negaunee Miners in Escanaba.

Gladstone, meanwhile, will host The Rock tournament this Saturday, with matches starting at 9 am and going all day long.

THURSDAY'S OTHER UPPER PENINSULA SCORES
HOUGHTON 3 WESTWOOD 1....13-25, 25-22, 15-12, 25-15
MID PENINSULA 3 RAPID RIVER 2...25-14, 17-25, 25-20, 22-25. 15-5
NEWBERRY 3 BRIMLEY 0....27-25, 25-20, 25-12
HANCOCK 3 JEFFERS 2....23-25, 21-25, 25-21, 25-18, 15-9
RUDYARD 3 PICFORD 0....25-10, 25-18, 25-15
EWEN-TROUT CREEK 3 LANSE 0...25-10, 25-16, 25-16
MAPLEWOOD BAPTIST 3, BIG BAY DENOC 0...(25-12, 25-20, 25-19)
NEG AUNEE 3 ISHPEMING 1