Tech Volleyball Loses To No.7 UMD Bulldogs, 3-0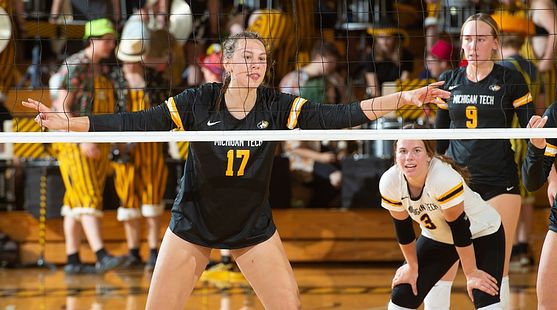 This story was written by Michigan Tech Athletics

DULUTH, MInn.---No. 7 Minnesota Duluth defeated Michigan Tech 3-0 Thursday (Sept. 7) at the Up North Tournament at Romano Gym. The Huskies led late in both the first and third sets, but the Bulldogs remained undefeated, winning 27-25, 25-14, and 25-23.

"While we lost the match, our team took another important step forward here tonight," Tech coach Matt Jennings said. "We had one of the best teams in the nation on their heels late in sets, on the road. We had a goal to earn the respect of the crowd and use it to keep us going, which we did without a doubt. We took control of play for long stretches of the first and third sets, putting ourselves in a real position to win in each one, with leads after twenty both times.

But again, the more seasoned and veteran team pulled it off at crunch time. We're learning how to do just that with this crew. Finishing late in sets is a learned skill that we're working through here in real-time."

UMD jumped out to an early five-point lead in the first before the Huskies settled in with a 9-1 run to take advantage. Kaycee Meiners had a kill to make it setpoint but the Bulldogs scored four of the next five points to take the win 27-25. Lindy Oujiri had five kills in the opening frame to lead all players.

There were 13 ties and four lead changes early in the second set before UMD went on 12-1 to go up 2-0 at the break.

Tech led by as many as three six different times in the third. Holding on to a 17-14 advantage, the home squad scored six straight. Tech responded with a 5-1 run which included three Rachel Zurek kills. The Huskies led 23-22 before UMD found a kill followed by a pair of attacking errors to end the match.

Lindy Oujiri had a match-high nine kills to lead a balanced offensive attack. Kaycee Meiners (6), Tricia Kennedy (4), Rachel Zurek (4), and Brooke Dzwik (3) also contributed to the offense. Tess Hayes set the attack with 24 assists while adding nine digs. Amelia Albers also had nine digs.

"Once again, Kaycee proved that she's an elite-level player that can score among the best," added Jennings. "She commands a ton of attention from the other side and has consistently scored at a high clip in each of these first matches. Lindy did her job tonight and carried a big load for us out there. She took big swings all night and came up with some clutch points for us in tight moments."

"Amelia really stood out here tonight in the libero spot, her first shot wearing the shirt this year. She passed well and looked comfortable out there most of the night.

"Tess ran the offense well enough to get our offense going in ways that kept us in the match and at times with a sizable lead. At times, our offense looks really really good, and we're still playing down a few and learning what works for us. She's doing a great job, and plays with the kind of command well beyond her years."

UMD hasn't dropped a non-conference home match since 2016. The Huskies held a senior-heavy lineup that returns five starters and a pair of All-Americans to .168 hitting and didn't allow a Bulldog to tally over eight kills in the match.

The Huskies continue competition at the Up North Tournament on Friday at 3:30 p.m. against No. 5 St. Cloud State. Tech plays Southern New Hampshire and No. 23 Central Washington on Saturday.