NMU Volleyball Team Falls To No. 5 St. Cloud State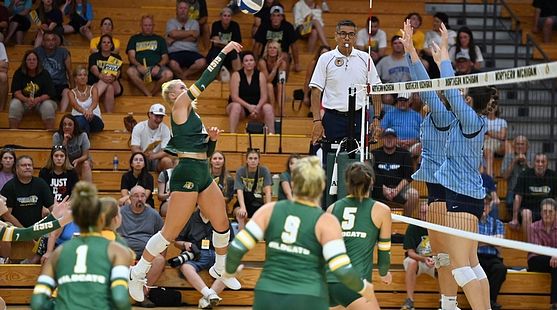 This story was written by NMU Sports Information

DULUTH, Minn.---The Northern Michigan volleyball team began play at the Up North Tournament, hosted by Minnesota Duluth, with a 3-0 loss to No. 5 St. Cloud State. NMU fell in straight sets 13-25, 20-25, and 16-25.

The defeat drops the Wildcats to 1-4 on the young season. The Huskies remained an unblemished 5-0 in 2023.

Minus two outside hitters in Jacqueline Smith and Evynn Layshock, the Wildcats struggled to establish consistency from the get-go. After the sides exchanged the first four points in the opening set, SCSU managed a 4-0 run that the Wildcats couldn't recover.

NMU failed to string together consecutive points until late in the first set, when they only mustered two in a row. On the other side, the Huskies managed four-point runs on three instances to create separation. NMU's .032 hitting % was a key point of struggle in the first, with St. Cloud managing a .393 clip to ease into a 25-13 set one win.

The start of the second set didn't prove much better for the Green and Gold. NMU pulled together four straight points early in the set, but it was replicated in response from St. Cloud. The Huskies recorded another four-point swing in the middle of the set to go ahead 15-8.

Trailing 19-11, the 'Cats hung tough and pulled all the way within two at 20-18. Freshman setter Allie Barlow entered for the first time in her career and helped set up her teammates on a few key assists, but the undefeated Huskies capped off the set and were victorious 25-20. A 5-0 service ace advantage in the set for SCSU proved to be costly for the Wildcats.

In the third, NMU held a brief 5-4 lead before St. Cloud erased it and jumped ahead 10-6. After an extended series of back and forth leading late into the set, the Huskies scored eight of the final 10 points for a 25-16 set and match point victory.

NMU once against struggled hitting in the match, posting a .101 % mark, the second lowest on the campaign. NMU also didn't help themselves at the service line, surrendering two service errors in each set.

Meghan Meyer led the way for NMU with seven kills, while Syndey Bartels (6) followed behind. Freshman Kaysie Bakke was third on the team with four kills, the first in her first collegiate appearance.

SCSU's Kenzie Foley paced all participants with 15 kills on the evening.

Northern will prepare for a doubleheader tomorrow, with a match against No. 23 Central Washington taking place at 1 p.m. ET followed by a nightcap meeting with undefeated Southern New Hampshire at 6 p.m. ET.