2-0: Wildcat Women's Soccer Team Tops St. Cloud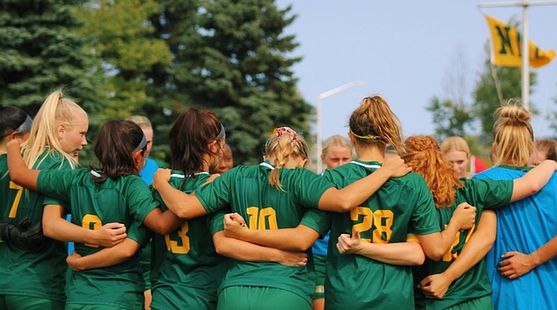 This story was written by NMU Sports Information. (NMU Photo)

MARQUETTE, Mich. - The Northern Michigan University women's soccer team opened the 2023 campaign with its second consecutive win, defeating the St. Cloud State Huskies by a score of 3-0 on Saturday.

The Wildcats improve to 2-0 overall, and the Huskies fall to 1-1 overall. The Wildcats maintain its impressive undefeated streak at home, going 14-0-2 in the last 16 home contests.

Hannah Kastamo led the way for the Wildcats, recording two goals on four shots on goal.
Stehpanie Trujillo registered the other Wildcat goal and assisted on Kastamo's first goal.
Molly Pistorius and Brenna Musser both recorded assists.
Jillian Thompson earned her first clean-sheet as a Wildcat, making one save.
Defender Gwen Kiilunen was the only Wildcat to play 90 minutes outside of the keeper.
NMU outshot SCS in both shots (14-7) and shots on goal (11-1).
Both teams had two corner kicks, NMU recorded 11 fouls to SCS's eight.
Stephanie Trujillo lined up to take a corner kick in the 15th minute of the game. It was a perfectly placed ball that Molly Pistorius was able to go up and get solid contact on a header. Her bid for goal rang the crossbar before landing in the perfect place for Hannah Kastamo to volley the ball to goal to give the Wildcats a 1-0 lead.

Brenna Musser received a pass from Molly Pistorius who used her body as a shield to guard the ball from a defender as she positioned just outside the box. Musser flicked a pass back to Stephanie Trujillo, who faked a shot with her right foot to shake the oncoming defender before cutting back and taking a strike with her left foot to send it into the upper left corner to extend the Wildcats lead to two.

Kenna Alexander was relentless on her press, forcing a turnover and getting the ball in transition. She swung the ball across to Brenna Musser who made a phenomenal cross into the box that landed perfectly on Hannah Kastamo's left foot, and Hannah made no mistake to finish for her second goal of the game and to extend the 'Cats lead to three.