#IGOTYOU: Fundraiser Launched In DeMay Honor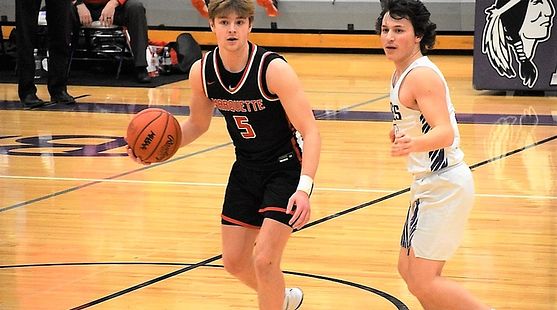 ---Click the AUDIO button to hear Coach Eric Mason comments---

"I GOT YOU".

That's what Marquette teenager Jordan DeMay always told his friends, before he was driven to suicide last year in a sextortion scheme, allegedly orchestrated by two brothers from Nigeria.

A fundraiser was launched this weekend in Marquette, selling "I GOT YOU" T-Shirts, hoodies, and hats, with all proceeds going to help the Marquette Senior High School football team with its travel expenses.

DeMay was a star on the 2021 Redmen football team, as well as the basketball team (pictured).

"He was obvuously a major part of our program," MSHS Head Football Coach Eric Mason said. "Jordy was just a fantastic young man, and a lot of these kids (current Redmen players) were close to him. It's just nice to see kids come together, the community come together. Let's face it, in this day and age, any time you can get the community to come together, it's a positive thing."

These items will be on sale through downtown Marquette business Loyal Tees in its on-line store (CLICK HERE ) .

T-Shirts are $25, Hats are $30. Hoodies are $40. They are on sale now through October 24th.

"His family has just been fantastic," Mason said. "They continue to give back to the community in Jordy's name, and I think that's awesome. Anytime you can recognize, remember, honor a young man like that, I think it's a goof thing. You know, he just had an infectious personality. Things happen in life that you just can't explain. Unfortunately, we lost a fantastic young man. I would give anything to be able to speak to him today."

A similar fundraiser with those hashtags is also being done for a scholarship in DeMay's name to benefit a MSHS student. That is being done through the Marquette Area Public Schools Education Foundation. At last word, it had raised more than $16,000.