Bay College Men's Basketball Players Earn Honors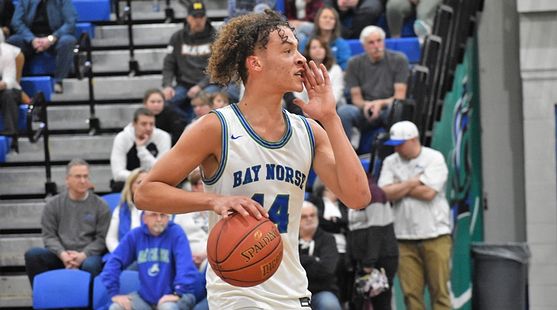 PORT HURON---The Bay College Norse men's basketball team is reaping the awards of its historic first season in the Michigan Community College Athletic Association as the MCCAA released its post-season awards list on Wednesday.
The Norse ran the table in conference play, going 14-0 and taking the North Conference championship, and Bay finished as MCCAA runners-up after beating Kalamazoo Valley before losing to Henry Ford Community College in the championship game.
On Wednesday, the Norse had several players honored by the MCCAA, including point guard Tyrel Creger. The Owatonna, Minn., native was named the North Conference Defensive Player of the Year, as well as the North Conference Freshman of the Year.
Creger was also named to the North Conference All-Conference First Team.
He started all 32 of Bay's games this winter, averaging 10.8 points, 5.5 rebounds, and 4.3 assists per game. He had nearly double the amount of assists (136) than he had turnovers (73). That while playing more than 28 minutes a game, on average.
Sophomore Lamar Grayson was also a First Team All-Conference selection. He played in 30 of Bay's 32 games, and led the team in scoring with 16.6 points per game. Grayson also made 31% of the three-point baskets that he shot, and he added 2.2 rebounds and 2.1 assists per game.
In addition to North Conference honors, both Creger and Grayson were named to the NJCAA Region 12 All-Region team. The Norse were regional runners-up, losing to Mott Community College in the championship game.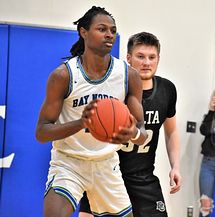 Joining Creger on the All-Freshman team by two of his teammates: Colin Hudson of Escanaba and Genesis Kemp from Grand Rapids. Hudson played in all 32 games, starting 30 of them. Hudson averaged 8.6 points and 3.8 rebounds per game.
Kemp, the team's Sixth Man (first off the bench) averaged 12 points and 5.2 rebounds per game. Both Hudson and Kemp were also named to the North Conference Second Team.
Two other Norse players were named to the North Conference Third Team: sophomore Justin Nelson of West Iron County, and sophomore Jaylen Flaniken of Detroit. Creger and Nelson were also named to the North Conference All-Defensive Team.

Bay College Head Coach Matt Johnson was named North Conference of the Year as the Norse finished their season with a 26-6 record, the best in school history, along with that 14-0 conference record.