Norse Rally Past Kalamazoo; No. 3 Henry Ford Next
Click the thumbnails to see photos and videos, and to hear post-game comments from Ty Creger, Lamar Grayson, and Coach Matt Johnson. Also click to hear Jahlani Thornton and Jaylen Flaniken player spotlight interviews.

DEARBORN---The Bay College Norse men's basketball team dug themselves a big hole in the first half of their Michigan Community College Athletic Association semifinal game on Saturday, but were somehow able to turn the tide and win their 16th straight game, 77-69, over Kalamazoo Valley Community College.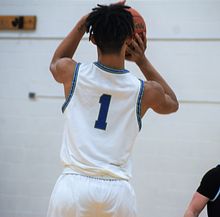 "It was a gritty win, but it sure as hell wasn't pretty," Norse Coach Matt Johnson said. "It was exactly like how this team has been all year. They fight, tooth, claw, kick, scream, whatever it takes that you need to do to get back in it. It can't be that way against Henry Ford tomorrow, though."
"They're a good team and they came out early firing, and we came out slow early," Norse sophomore Lamar Grayson said. "They were making a lot of tough shots in the first half, but we changed that in the second half."
"Terrible start," Norse freshman Ty Creger said. "Probably the worst that we've had all year. We just didn't come out with any energy. I didn't play great today. I, myself, went 0-for-5 (actually, 0-for-8) from three. That can't happen tomorrow (against Henry Ford). But I'm just happy with the way we battled."
It was a battle of conference champions between the Norse (MCCAA North) and the Cougars (MCCAA West), and before the game, both the Norse and Cougars received their placques for winning their conference titles.
The game got off to a rocky start as Bay fell behind, 21-5. They had only one point in the first six and a half minutes of the game, and the Cougars were raining down triples at the other end, with T.J. Showers getting three of them.
It was a battle of conference champions between the Norse (MCCAA North) and the Cougars (MCCAA West), and it got off to a rocky start as Bay fell behind, 21-5. They had only one point in the first six and a half minutes of the game, and the Cougars were raining down triples at the other end, with T.J. Showers getting three of them.
The Norse were able to keep battling back throughout the first half, but every time they cut the lead down into single digits, the Cougars would regain the big lead with spurts of their own.

A two-handed slam dunk by Miles Johnson gave KVCC a 40-29 lead just before halftime. It was 40-31 at the break. Coach Johnson challenged his team at halftime.
"The first five, seven minutes was really, really bad," Johnson said. "It was bad energy-wise. We had great looks on offense. We got stop after stop on defense. But we just couldn't score."
"Coach was NOT happy with us," Grayson said. "We knew we could play better than we just played. I don't blame him. We knew we had to come out here and play harder defense. Talk on cuts. We knew we would come out with the win if we did that."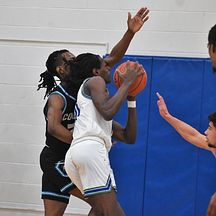 "We weren't shooting the ball too well," freshman Genesis Kemp said. "We were taking too many three's, and got into a hole. So, in the second half, we got people into foul trouble and ended up making the game even, and then went on that run at the end."
The only thing that kept the Norse in the game in the first half was free throw shooting. The Cougars got into severe foul trouble, and Bay made 17 of 20 foul shots in the first half for more than half of their point total. And Kemp made six of them, plus three baskets in the paint, to keep Bay in the game.
In the second half, Lamar Grayson started to take over. He scored nine points (five of them at the line) as the Norse closed to within 48-42. Grayson continued to attack the basket, with the next shot missing but being tipped in by Justin Nelson from in front of the rim. Then Grayson scored a leaner in the lane to bring the Norse to within 49-46 with still 13:00 left in the game.
The Cougars made their tenth triple of the game (and sixth by Showers) to again hold off the Norse, rebuilding a 58-48 KVCC lead. But then, the foul troubles started to mount for the Cougars, and they eventually had three players foul out and two others were on the edge with four fouls each.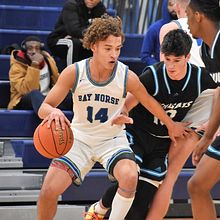 The Norse trailed, 63-59, when Baril Mawo gave the team a spark off the bench with two straight baskets, tying the game at 63-all with 6:02 left on the clock. Down the stretch, the Norse defense forced some ill-advised shots by the shorthanded Cougars, and Bay was able to finally take the lead by breaking a 64-64 tie with a 13-2 run.
During that run, Creger gave the Norse their first lead of the night with a short jumper, then a Colin Hudson lay-up made it 68-64. Creger scored again moments later to build a six-point lead, and the back-breaker for KVCC came when Hudson sank a triple from the left corner as the shot clock expired, giving Bay a 74-64 lead with less than two minutes to play.
The icing on the cake came when Grayson also drained a triple from the corner, capping a 25-point night, and ending the game with a 77-69 Norse win.
KVCC fell to 22-6 on the season. Showers had 26 points, making six triples. Johnson added 15 points, five rebounds, and five assists before fouling out. Ranere Draper added a double-double of 11 points and 14 rebounds.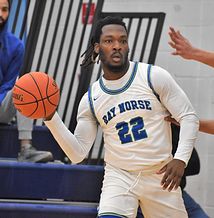 Bay College improved to 25-4 on the season. Grayson made 12-of-13 free throw as part of his 25-point performance. The team shot 28-of-33 at the free throw line.
"We needed every single one of them," Johnson said. "Great effort by our guys to get there. We attacked and made them foul us, and then we knocked down shots when we needed to."
"That felt good," Grayson said. "I put in a lot of work on them (free throws). I expect them to go in."
Kemp, off the bench, as always, gave a spark, with another double-double of 16 points and 12 rebounds.
"I don't worry too much about the starting line-up," Kemp said. "That's what Coach told me at the start of the season. He said my time will come if I'm patient with it. So, I'm not too worried about it."
Ty Creger had 12 points, eight steals, six assists, and five rebounds. And Mawo contributed six points and ten rebounds.
Next up: the biggest challenge of the year for the Norse: a game against Henry Ford Community College for the MCCAA championship. The Eastern Conference champion Hawks are 23-4 on the season and ranked third in the country.
"We absolutely need 40 minutes of locked-in, focused, as-good-as-we-can-be basketball," Johnson said. "This is gonna be a great opportunity for us to see what we can do next weekend (in the regional tournament). Nobody expects us to win. It's a game that we can make a huge statement. And it's a game that can show us what that level takes. This is a national tournament-level team."
Sunday's game is set for 3:00. It will be broadcast live on FM-106.3.