STILL ROLLING: Norse One Win Away From Title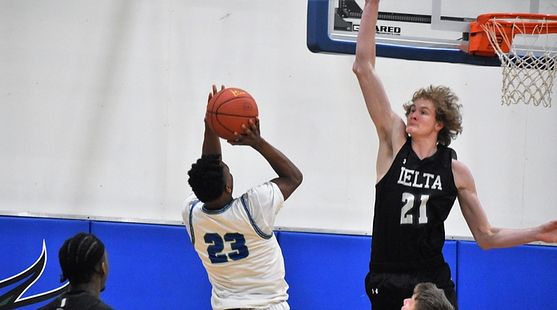 Click the thumbnails to see photos and videos, and hear post-game comments from Lamar Grayson and Coach Matt Johnson.

Also click the AUDIO buttons to hear interviews about the Bay College baseball team with Coach Mike Pankow and pitcher Austin Burnside

ESCANABA---The Bay College Norse men's basketball team stayed on top of the Michigan Community College Athletic Association North Conference standings on Saturday by rolling past the Delta College Pioneers, 95-61, at the Bay College Gym.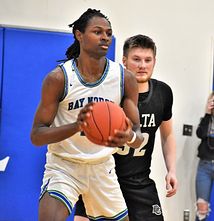 The Norse had six players score in double figures and they led from start to finish, winning their 14th straight game in what has become the best season in the six-year modern history of the program.
"Hats off to the guys," Norse Coach Matt Johnson said. "We played well and there was a decent energy. To be completely honest, that was one of our worst warm-ups. I was watching a little bit as we warmed up before the start of the first half, and I saw enough and I had to walk to the locker room because I didn't want to see any more."
"I thought for sure we were going to get punched in the chin," he continued. "We didn't. We were more ready and locked in than I thought. Great effort. Spread it out across the board. Everybody that saw the floor played really, really well. Our bench energy was great."
Bay has clinched at least a share of the conference tittle, with a showdown coming against the second place Mid-Michigan Lakers on Tuesday in Escanaba. The Lakers dominated Alpena, 106-75, in a game Saturday night in Mt. Pleasant.

The Norse had won a war with Delta College in Saginaw earlier this month, 100-90, and Johnson's goal was to play better defense this time, and to better control the pace of the game. And it was Mission Accomplished on both counts in Saturday's game.
"Seventeen assists and twelve steals. That's exactly what we need," Johnson said. "That's a heck of an effort. We played well. We've got to be a lot better and tighten some things up. We turned it over a little bit more than I would like. Thirteen turnovers is a bit much. Against (Mid-Michigan) we can't turn it over 13 times and we also can't give up 15 offensive rebounds. But, at the end of the day, we won by 34, and I'll take it."
Sophomore Lamar Grayson led the way by scoring 21 points. He says the team needed to pick it up after playing a sluggish game in a 74-71 win at Kirtland on Wednesday.
"I just feel like we played better as a team today," Grayson said. "We had way more assists than we had against Kirtland. When you play as a team, this is what happens. Sharing the ball, man. That's perfect, right there. I'm glad to see all my teammates eating right there. I'm proud of those guys. We all gotta eat!"
Bay scored the first seven points of the game, and led, 13-6, as Escanaba High School graduate Colin Hudson knocked down a pair of triples and scored a basket in the paint.
The Pioneers closed to within 13-10 on back-to-back dunks by Khalil Camara and Zavier Singleton, but the Norse went on a long 24-9 run to take a 37-19 lead.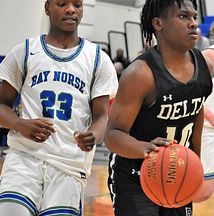 During that spurt, Genesis Kemp came off the bench to nail a triple, and score twice inside. He finished with 11 points and four rebounds in 19 minutes of play.
Also during that run, Baril Mawo also came off the bench and scored three straight baskets, one of them on a tip off of a Tyrel Creger missed shot. Mawo had a double-double of 13 points and 11 rebounds in just 20 minutes of play.
The Norse led, 44-27, at halftime. In the second half, the Pioneers closed to within eleven, but could get no closer. The Norse kept building their lead throughout the second half, with ten different players scoring, putting up 51 points in the final 20 minutes.
Lamar Grayson led the Norse in scoring with 21 points. He made eight of the 14 shots he took from the floor, and he made five of his six free throw attempts.
Creger, the Norse point guard, had an outstanding game after being benched at halftime in Wednesday's win at Kirtland College. Creger played 26 minutes on Saturday, scoring 12 points, grabbing seven rebounds, dishing out six assists, and having six assists on defense.
Sophomore center Justin Nelson also reached double figures in scoring, with eleven points in 24 minutes of play. He made five of his nine shots from the floor.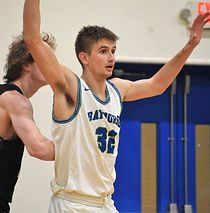 Delta College (6-18 overall, 4-8 MCCAA) was led by a doublc-double from Jermaine Lawrence. He scored 23 points and grabbed 10 rebounds, and played 39 of the 40 minutes. Singleton added 12 points big-man Travis Pourciau had eight rebounds.
The Norse improved to 23-4 overall, 13-0 in the MCCAA. They will face a Mid Michigan Lakers team on Tuesday that has run the table since a loss to the Norse in Mt. Pleasant earlier this month.

The Lakers will come to Escanaba with a 21-5 overall record, 11-1 in league play. The Lakers also have a make-up game in Muskegon next Thursday night. If Bay wins on Tuesday, the Norse will play in the MCCAA Championship tournament at Henry Ford Community College in Dearborn next weekend, along with East Champion Henry Ford and West Champion Kalamazoo Valley.
"We've got to win a really, really, really big one, and we'll see what happens from there," Johnson said. "If you're a basketball fan, and you want to see a really good basketball game, come watch us. It's gonna be an all-out battle here at our place. Let's pack this place on Tuesday."
"One more win, man, so we can get this conference championship, and the first in school history," Grayson said. "We've gotta pull through. Mid-Michigan is a very good team. It's gonna be a big one, and we've got to come ready to play."
If Bay loses on Tuesday, then MCCAA tiebreakers will be used to determine whether the Norse or Lakers will head to the Motor City next weekend. Both teams have qualified for the NJCAA Region 12 Tournament the following week.
Tuesday's game starts at 7:30 and will be broadcast live on FM-106.3 and on-line at www.radioresultsnetwork.com. Tickets are on sale now at www.baynorse.com.