Bay Men Set Up Mid-Season Showdown With Win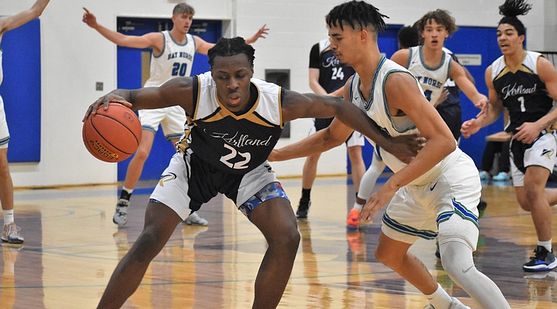 Click the thumbnails to see photos and videos, and hear post-game comments from Lamar Grayson and Coach Matt Johnson. Also click the AUDIO button to hear Tyrel Creger's player spotlight interview.

ESCANABA---The Bay College Norse men's basketball team slipped past the Kirtland Community College Firebirds, 75-62, Wednesday night, setting up a mid-season showdown between two undefeated teams this Saturday in Mt, Pleasant.

The Norse led by as many as 25 points after falling behind by eight early in the game against new Firebirds program. The win improved Bay's record to 6-0 in the MCCAA North Division, and kept the team tied with Mid Michigan in first place in the conference standings.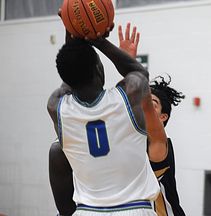 The Norse and Lakers will meet Saturday afternoon in a showdown in Mt. Pleasant, but Bay Coach Matt Johnson was unhappy with how his team tuned up for that game Wednesday.

"I think if we play anything like this, we're gonna get our butts kicked," Johnson said. "This is probably the worst we've played, probably all year. We got a win, so I guess that sets up for a heck of a battle. But we've got to be better. This was just not a good effort."

And Johnson was just getting started.

"I thought our energy was bad, I thought our focus was bad, I thought we were just sleepwalking through it. We were bad defensively," he said. "They outrebounded us. We gave up 15 offensive rebounds. We've got too much of a size-advantage for that to be the case. We just need to be better. We need to be more locked in."

"Maybe we were looking past them (Kirtland) to Mid Michigan. But we just need a much, much better effort on Saturday, otherwise, we're gonna get our butts kicked."

Mid Michigan took care of its business by whipping Muskegon Community College, 87-59, So entering Saturday's showdown, both teams holding 6-0 records in league play, and the Norse at 16-4 overall, and the Lakers sitting at 15-4 overall.


"We've got to make sure we are more consistent with our effort," Johnson said. "We'll be fine. I mean, our guys work hard. We get after it. I'm not worried about that. We've just got to be better."

The Norse fell behind the Firebirds (1-11 overall, 1-5 MCCAA), 12-4, five minutes into the game. But the Bay offense kicked into gear with an 18-2 run, keyed by Genesis Kemp off the bench with a triple and four free throws, and Lamar Grayson, who beat the defense with two "and-one baskets" in the first half and another in the second half.

The Norse grabbed a 35-20 lead at halftime.

Grayson, who was named the MCCAA North Division Player of the Week for a second straight week for his 30-point performance last Saturday at Delta College, scored 17 points Wednesday as he carved up the Firebirds with his dribble-drive.

"I work on it a lot," Grayson said. "I really don't think anyone can guard me, for real. It's fully up to me. I really do gotta back it up. You gonna talk the talk, you gotta walk the walk. So, that's what I'm gonna keep trying to do. Continously try to get better, and lead my team to victories."


In the second half, Creger nailed four triples in a short period of time to help put the Firebirds away. He ended up with 18 points to lead all scorers. Bay's biggest lead of the game came at 25 points (64-39) before the Firebirds outscored the Norse, 23-9, to end the game.

Greg Wilson led Kirtland with 16 points and five rebounds, and Rick Daniels had 14 points (7-of-8 at the foul line). Alex Gray had ten rebouds to go along with his three points.

For the Norse, Kemp did what he always does off the bench: produce. He had 15 points and five rebounds in his 21 minutes of play.



It was Staff Appreciation Night, where a dozen faculty and staff members, including outgoing President Laura Coleman, were thanked for their service to the students and community.




And it was an "Orange Out", as the Norse joined dozens of other schools in raising money for the children of Tara and Jerry Weaver, who were killed in a traffic crash while driving to their son's basketball game in Sault Ste. Marie last Friday.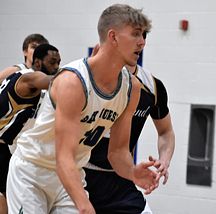 The Norse donated 50/50 and concession proceeds, the Billerud paper mill matched that total, and Bay players twice went into the stands for "miracle minutes" to collect small donations for the Weavers. The grand total raised: $3,611.50.
"That's awesome," Johnson said. "It shows a lot about our community, doesn't it? It's not anything you ever want any community to go through. But it really is a testament to the people in our community. How we rise to the occasion to help each other out."

The Bay College-Mid Michigan game will mark the exact halfway point of the MCCAA season, and the Norse will then play the other seven teams again to get up playoff seedings.

Saturday's showdown starts at 3:00 and will be broadcast live on FM-106.3 and on-line at www.radioresultsnetwork.com. The two teams will play each other again in Escanaba on Feb. 28 in the final game of the regulat season.