Bay College Ladies Grind Out Home Court Victory
Click the thumbnails to see photos and video highlights, and to hear post-game comments from Coach Matt Gregory. Also click the AUDIO button to hear Kassidy Roll's player spotlight interview.

ESCANABA---The Bay College women's basketball team had to grind one out Wednesday night, as the Norse turned back the Kirtland Community College Firebirds, 46-38, on a special night at the Bay College Gym.
It was Staff Appreciation Night, where a dozen faculty and staff members, including outgoing President Laura Coleman, were thanked for their service to the students and community.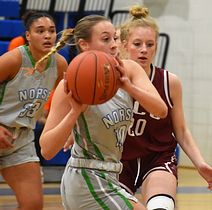 And it was an "Orange Out", as the Norse joined dozens of other schools in raising money for the children of Tara and Jerry Weaver, who were killed in a traffic crash while driving to their son's basketball game in Sault Ste. Marie last Friday.
The Norse donated 50/50 and concession proceeds, the Billerud paper mill matched that total, and Bay players twice went into the stands for "miracle minutes" to collect small donations for the Weavers. The grand total raised: $3,611.50.
"That's awesome," Bay College Athletic Director Matt Johnson said. "It shows a lot about our community, doesn't it? It's not anything you ever want any community to go through. But it really is a testament to the people in our community. How we rise to the occasion to help each other out."
As for the game, it wasn't pretty at times, with neither team scored a single basket heading into the media time out more than five minutes into the contest. But the ladies eventually found their groove, and the Norse never trailed.

"It's definitely a big morale booster," Norse Coach Matt Gregory said after his team picked up its second conference win of the season. "Our goal was to come out and compete, and to have no regrets, have people step up, trusting each other, and trusting ourselves. I thought we did a better job of doing that."
Bay got its offense going after that first quarter media time out, scoring 13 points in the final four-plus minutes to take a 15-9 lead. Tianna Taylor and Kassidy Roll both scored twice, while Alyssa Cretton and Stephanie Frappy also added baskets.
The second quarter was sluggish offensively as well, with Cretton scoring six points as the Norse outscored the Firebirds, 10-8, to take a 25-17 lead to the locker room.
In the third quarter, the Norse got their biggest lead at 27-17 after a Cretton basket, but the Firebirds finally got their leading scorer, Kennedy Johnson, going. Johnson, averaging 17 points per game, was held to two in the first half, but she scored six in the third quarter as the Firebirds closed to within 29-26.
Bay led, 35-30, entering the fourth quarter, and didn't let the Firebirds catch up. Cretton knocked down a triple and she sank four straight free throws at the end to seal the deal. The Niagara High School graduate finished with a game-high 18 points.

"I think we all did well defensively, and we all stepped up," Cretton said. "I think that just getting the confidence up after tonight, I think we can do it this weekend (against first place Mid Michigan)."
Taylor had a tough game in the paint, scoring nine points and grabbing eleven rebounds. Roll chipped in eight points and six rebounds. Frappy had eight rebounds to go along with her five points. Cretton had five rebounds and five assists to go along with those 18 points, and she never got a break, playing all 40 minutes. Frappy also played all 40,
Bay gave up 17 offensive rebounds and committed 13 turnovers, but that combination was not deadly as it has been in previous games because the Firebirds made just two of their 25 three-point attempts, and they only got to the free throw line five times.
"We're trying to find different ways to stay focused (on defense) and ways to get stops," Gregory said. "Three stops in a row equals a kill, and our goal is eight kills a game. If we get eight kills, we ave a chance to win, but we have to take care of it on the offensive end, too."
Kennedy Johnson led Kirtland (1-11 overall, 1-5 MCCAA) with 14 points and ten rebounds.
Bay College improved to 6-14 overall and 2-4 in MCCAA play. The Norse currently sit in sixth place in the North Division, and they need to be in the top five to make it to the post-season.
The Norse will play at first place Mid Michigan (17-3 overall, 6-0 MCCAA) Saturday afternoon at 1:00 in Mt. Pleasant.

The Lakers held off Muskegon Community College, 70-67, Wednesday night, to open up a two-game lead over everybody else in the league. Saturday's game will be broadcast live on FM-106.3 and on-line at www.radioresultsnetwork.com.