MILESTONE WINNER: Bay Rolls Alpena For 100th
Click the thumbnails to see photos and videos, and to hear post-game comments from Genesis Kemp and Coach Matt Johnson. Also click the AUDIO button to hear Carter Hudson's player spotlight interview.

ALPENA---An otherwise ho-hum game for the Bay College Norse men's basketball team turned into a milestone victory for the program Wednesday night as the Norse cruised past the Alpena Community College Lumberjacks, 86-50, in Alpena.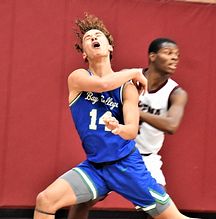 In a game that saw the Norse sit most of their starters because of illness, injury, and other factors, Bay stayed tied for first place in the Michigan Community College Athletic Association standings.

And the Norse picked up the 100th victory in the six-year history of the program that had been shuttered for more than three decades.
"It means that we've had a lot of really good players over the last six years," said Bay College Coach Matt Johnson, a Gladstone native who returned to the Upper Peninsula from Hibbing, Minn., to start this program and is the only head coach it has had. "All the credit goes to every kid that's worn the Norse jersey over the last six years. This group right here is winning games and doing some really special things, but I think back to Year One, and I could go through the entire roster."
Overall, Johnson and the Norse have played 158 games and won 100 of them, for a 63.3% winning percentage. All but this season were played in NJCAA Region 13, and as an independent. Now, the Norse have taken that next step into the tradition-rick MCCAA, and it's a case of so-far-so-good, as Bay has won all four of its games and had two players chosen as North Division Player of the Week so far.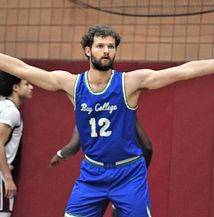 "The Marcus McKenneys, the Tyler Willettes, the Dre Tuominens, that's the group that got this thing started," Johnson said. "I told them when I recruited them, that no matter when it happens, when we win a conference championship or get to a national tournament, even if it's not in their two years, it's going to be because of the foundation they built."

"This doesn't happen without those guys taking a chance seven years ago, committing to us and working their tails off. It's a program accomplishment. One hundred wins in six years is pretty good and I am proud of it."
This one was anti-climatic as the Norse did not play starters Lamar Grayson and Justin Nelson at all, and Colin Hudson saw limited playing time, along with Joc Overstreet. One starter who did quarterback the team was Tyrel Creger, who scored 12 points, and controlled the offense from the point guard position.
Even Creger wasn't overworked, as the Norse substituted freely the entire night against an Alpena team that was undersized and outmatched under Coach Bobby Allen, an Alpena legend whose jersey hangs on the wall inside the gymnasium.
It seemed like the Norse were going through the motions most of the night, but they still had enough energy to get five men score in double figures: Genesis Kemp (15 points)< Michael Foust and Jaylen Flaniken (14 each), Creger (12 points), and Baril Mawo ten points. Hudson chipped in eight points in limited action.
The Norse led just 13-11 in the first half before Creger nailed a triple to make it 16-11, and then after a Lumberjack basket, Flaniken knocked down a three of his own.
Alpena's James Williams scored inside to bring his team to within 25-19 midway through the first half, but the Norse scored 15 straight points to go ahead, 40-19, with Mawo scoring off a rebound, Jahlani Thornton scoring from the baseline, and Creger knocking down his second triple of the first half.
In all, eleven of the twelve players who saw the court scored, including Superior Central's Parker Maki, who nailed a triple in the first half and ended up with four points. Cade LaFavor also scored four points off the bench.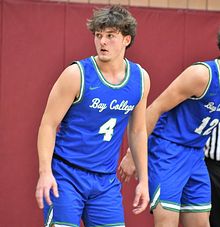 Kemp's 15 ponts, including five-for-six at the free throw line, continued a string of games where he has produced double-digit scoring, as well as rebounding and blocked shots, in his average of 15-to-20 minutes of playing time.
"I'm doing the job that Coach trusts me to do every night," Kemp said. "So far, every game since the Grand Rapids game (conference opener), it's been paying off. It's been good games."
At one point, Kemp blocked three straight shots on a sequence late in the first half.
"The timing was right," Kemp said. "That's all I can say about that. Usually, it's not. It's a foul, usually. But the timing was right today. Coach gets on me, so I'd rather not have fouls. It's going good. Coach talked to use about some things that we can do better. This was working on stuff to get us ready for the playoffs. So far, we're doing alright."
"His effort is always great," Johnson said. "He's got a motor. A knack for finding the ball. He rebounded the heck out of it. He just always brings it. He's pretty productive in the minutes he gets. Great effort by him. Great effort by everybody, especially in our balance, when you look at the minutes, across the board. We were able to spread it around and some guys stepped up. We got enough to get a win on the road and we'll take it."
Alpena (2-9 overall, 1-3 MCCAA) got 15 points from James Williams and 14 points from Davaion Mitchell.
Bay College (14-4 overall, 4-0 MCCAA) has another big road game on Saturday, in Saginaw, against Delta College. The Pioneers lost to North Division co-leader Mid Michigan, 85-70, in Mt. Pleasant. Delta College is 4-12 overall, 2-2 in league play.
Saturday's game starts at 3:00 and it will be broadcast live on FM-106.3 across the Upper Peninsula, and on-line at www.radioresultsnetwork.com.