Norse Women Split On Trip To Northern Minnesota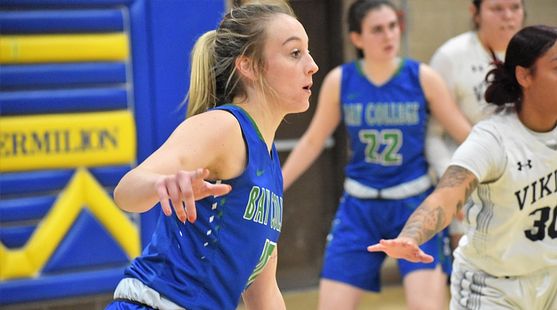 Click the thumbnails to see photos and videos from the two games, and to listen to interviews with Coach Matt Gregory, Emma Rutter, and hear player spotlight interviews with Mari Humphrey and Stephanie Frappy.

ELY, Minn.---The Bay College women's basketball team split a weekend series for the third time this season, this time in far northern Minnesota. The Norse lost Friday night to Rainy River (Minn.), 60-59, but bounced back on Saturday to beat Itasca (Minn.), 57-36.

The Norse entered this tournament on the campus of Vermillion Community College, just 16 miles away from te Canadian border and more than two hours northwest of Duluth, just one week ago, when their opponents in an upcoming tournament cancelled their seasons.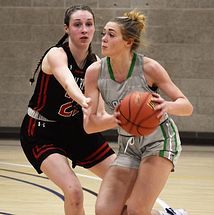 The trip for Bay to this tournament took nearly eight hoyrs thanks to heavy snow in the western Upper Peninsula and northern Wisconsin, and took the same time heading back home Saturday night.

The town of Ely, which labels itself as "the end of the road", has no national shopping retailers, no chain hotels, and the national food options were limited to DQ and Subway.

But Gregory says that was a good experience for his players, who spent a few minutes killing time at a grocery store (the largest store in Ely), Saturday afternoon.

"It's extra time to share stories and spend time in the hotels, or lodge (Adventure Inn), I guess you could say, and at breakfast time," Gregory said. "This is a fun experience to see different places and see what's big, what's small, and what some people do in their different towns. I think it's good to step out of your norm. Different experiences, different places."


"Oh, man, it was so long (drive), and it is so cold outside," Norse freshman Mari Humphrey of Milwaukee laughed. "Escanaba is a little cold. But not THIS cold! But it's good, though!"

Norse sophomore Stephanie Frappy is also from a small town, from Bondeul, Wis., which is located near Green Bay.

"There is nothing up here but woods and a few lakes around," Frappy chuckled. "It is tiny, nothing like my small town. Just to waste time, we walked around a grocery store, finding candy that we normally wouldn't have. And the 'Don't Be A Weenie" shirts (from the Zup's grocery store) will definitely going to be a highlight of this trip."

As for the basketball, the Norse on Saturday bounced back after a disappointing Friday night loss, leading from start to finish against the Itacsa Vikings team.

Bay led from start to finish, grabbing a 14-8 lead after one quarter and then outscoring the Vikings, 13=4, in the second quarter, to take a 27-12 lead at halftime.

Itasca closed to within 38-29 after three quarters, but Bay finished the job by outscoring the Vikings, 19-7, in teh fourth quarter. Gregory says everybody chipped in.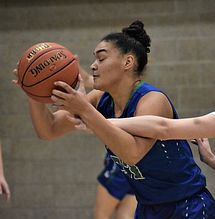 "We did all those small things that really, really equate to controlling a basketball game," Gregory said. "Kassidy (Roll) coming in and getting some boards. Tianna Taylor as well, just showing some strength inside. Ripping that ball and going up srong for those and-one's. I thought we did a decent job on the offensive rebounding end, which was really good that we were able to crash and find ways to do that. "

Alyssa Cretton got off to a strong start with 12 points in the first half and ended up leading the Norse with 14 points, and Roll added a double-double of 12 points and ten rebounds. Mari Humphrey had eight points and six rebounds, and Emma Rutter added six points and eighr rebounds.

"It was rough in there, but it was good to come out with a win," Rutter said. "I wouldn't want to drive back seven hours after a loss, that's for sure. We just mainly pressured the ball. They didn't do well when we were up on them. And then just knock our sots down, basically."

Rutter says she's getting used to the physical game.

"I felt good," she said. "I'm not really used to being banged around. College ball is a lot different than high school ball (at Superior Central), but it was good. Just got to get shots up and work through the paint."


Tianna Davis led Itasca with 14 points and ten rebounds.

The Norse had to play Saturday without last week's Michigan Community College Athletic Association Player of the Week, Alaina Trudeau, who was in concussion protocal after hitting the floor hard in Friday night's game against Rainy River College.

Rainy River held on in that game to post a 60-59 win. The Voyaguers and Norse played in a game of runs, with Rainy River taking a 15-8 lead before the Norse went on a 19-2 spurt to grab their biggest lead at 28-17 midway through the second quarter,

The Voyaguers closed to within 31-30 at halftime, and then the Norse had a dismal third quarter on offense, falling behind as far as 47-33 with 1:35 left in the third quarter.

The Norse, however, didn't give up. They battled back in teh fourth quarter, and then down the stretch, made a push to win it. With 13.6 seconds left, Cretton buried a long jumper to apparently tie the ga,e at 60-60. But despite the referee in front of the play raising his arms for a triple, the ruling was that Cretton had ger right foot on the line, and it was only a two.


Both teams were out of timeouts, and the Norse tried to get a defensive stop. They were hurt by the fact that they only had two team fould (normally a great thing), but they couldn't just foul and put Rainy River on the line. The Norse got close to a five-second call twice, but could not get the call, and the Norse had to foul three times, using up clock each time.

After the game, Gregory said that it shouldn't have come down to those last-second plays.

"We kind of shot ourselves in the foor at times, giving them way too many opportunities," Gregory said. "We had to capitalize on some of their mistakes. They did have some of those thrown-balls out of bounds, traveling calls, and stuff like that. We've got to find ways to make sure that they really pay for that, and in a game like this, we definitely noticed that. stuff is pretty important."

Cretton again led the Norse in scoring Friday with 21 points and nine rebounds. Trudeau, before getting hurt, added 15 points,

Shamiyah Bradford led Rainy River with 17 points off the bench.

Bay College is now 3-3 on the season. The Norse are scheduled to host the Lake Superior State University Junior Lakers Monday night at 7:00 in Escanaba.