Bay College Basketball Sweeps Weekend; Now 4-0
Click the thumbnails to see photos and video highlights.

ESCANABA---The Bay College Norse men's basketball team picked up two more wins this weekend, beating Mesabi Range (Minn.), 73-55, and holding off Madison (Wis.) College, 73-69 on Saturday.
The results give the Norse a 4-0 record as they head into their off-week.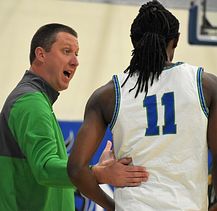 "Plenty of good things," Bay College Coach Matt Johnson said. "We were able to spread the minutes around again, and a lot of guys contributed. We're sitting at 4-0. I can walk out of here pretty happy and we'll definitely take it."
The Friday game, against the "other" Norse, was tight in the first half. Bay trailed, 13-4, five minutes into the game, and didn't take its first lead until Joc Overstreet knocked down a triple with 6:03 left in the half, making it a 22-20 game.
Bay led, 32-28, at halftime.
The second half was rough as the Mesabi Norse were called for four technical fouls. Bay opened the half on an 8-0 run as Justin Nelson scored a basket and a foul (off a nice dish from Lamar Grayson) and Overstreet knocked down another triple.

Grayson sank a triple of his own to put Bay in front, 43-30.
The Norse eventually built a 20-point lead at 54-34 as the fouls continued to pile up, with the teams combining to shoot 57 free throws (Bay shot 32 of them, making 23 of them. Mesabi was under 50-percent from the foul line (12-of-25).
"It teetered on out-of-control there for a while," Johnson said. "I was pretty proud of our guys and how they stayed composed. I thought we did a much better job in the second half of doing what we needed to do. They play really hard, they fly around, and they're really athletic. But we did enough."

"For us, it was a good win. Mesabil cam out and punched us in the face. We didn't have it early. It may not have been pretty, but it was a battle, and we came away with a W."
Bay College was led by Genesis Kemp's 15 points off the bench. He swished a three-pointer, had a first half slam dunk, and made six of his seven free throw attempts.
"We weren't getting rebounds and transitioning, and the game plan was to do that," Kemp said. "But we stuck it out and got the win. I felt good. A little tired before the game, but once I got going, it was good, and I was ready to go."
"In the first half, he was our best guy, and our tree guys coming off the bench were our three best guys in the first half," Johnson said. "We started really slow. He (Kemp) is just an energy guy. He brings it."
Tyrel Creger added seven points, seven rebounds, and five assists for Bay.
Mesabil (1-2) got ten points each from Nataj Sanders and Michael Johnson.
Saturday's game was also a grind against the Wolfpack. The Norse jumped to an early 12-2 lead, and then finished the first half on an 8-0 run to take a 43-27 lead into the dressing room. The Norse still led by double digits, 68-54, with 3:23 left to play, but Madison College didn't go away down the stretch.
The Wolfpack scored ten straight points to get to within 68-64 as a Peter Gustafson lay-up with 40 seconds left closed the gap.

But Creger sank two free throws and Grayson also sank two from the line as the Norse hung on for the four-point win.
"I kind of expected them to make a run at some point," Johnson said. "That's too good of a team not to. We played well. Our start was exactly what we wanted. We haven't done that yet. This was the first game where we started well. And thank goodness we started out like that because if we hadn't, we probably wouldn't have been able to sneak out of here with a W."
Grayson led the Norse with 21 points, and he made eleven of his 12 free throw attempts.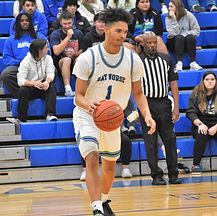 "I've been struggling in the first three games with free throws, so I'm happy that I only missed one tonight," Grayson said. "I know I work on them a lot, and put a lot of time into them. That's how I expect them to go in. I'm so happy that I only missed one. We needed every single one of them to win the game."
Jaylen Flaniken added 11 points off the bench, and Creger also scored 11 for Bay.
Madison (2-1) had four players score in double figures: Feller and Keith Hoffman both had 17 points, while Deante Luster added eleven and Telin Porter chipped in ten.
Johnson praised freshman Colin Hudson for the defensive work he did on the 6-foot-8, 240-pound Hoffman, who torched the Norse for 28 points and 11 rebounds in a 82-76 Madison win. This time, Hoffman was limited to 17 points.
"He's probably the best player on the floor, and Colin probably hasn't had to guard anybody like that (in high school)," Johnson said. "I thought we did a pretty good job against him. We thought if we could hold him to 15 (points) and five (rebounds), we'd win the game. He got a little more than that, but Colin did a really nice job on him."
Bay College takes next weekend off before heading to Ironwood for another tournament on Thanksgiving weekend.