Bay Norse Volleyball Drops Tight Match In Saginaw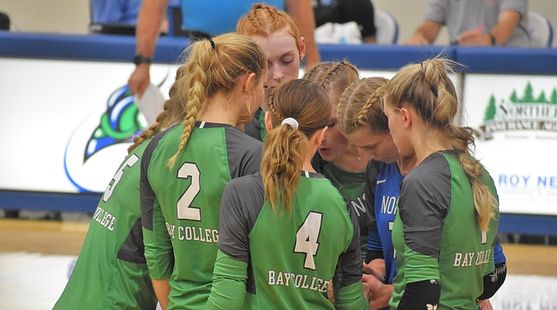 SAGINAW, Mich.---The Bay College Norse women's volleyball team lost its conference match in downstate Saginaw Saturday evening, falling to the Delta College Pioneers, 3-1.
After the Pioneers won the first set, 25-19, the next three were all tight.

The Norse tied the match with a 25-23 win in the second game, before Delta won the third and fourth games, 25-23, and 26-24.
Kylee Tadisch led the Norse with 13 kills. Riley Johnson contributed nine kills, and Leah Allan had seven kills. Defensively, Tori Jandt, who has already won the MCCAA Defensive Player of the Week award three times this season, had a whopping 27 digs in Saturday's loss.
Allan had 16 digs and Gladstone graduate Alissa Sanville had 13 digs. Allan and Jandt also had three service aces apiece.
Delta College got 23 kills from Kayla Baase, which was nearly half of her team's total of 49 for the match. The Belill girls combined for 35 digs: Sophia had 18 and Kya added 17.
Bay College fell to 8-9 on the season, 1-3 in conference play. Delta is 5-6 overall, 2-1 in the league.
The Norse are back in action Thursday night in Hancock against Finlandia University.