G.N.C. VOLLEYBALL: Escanaba Sweeps Marquette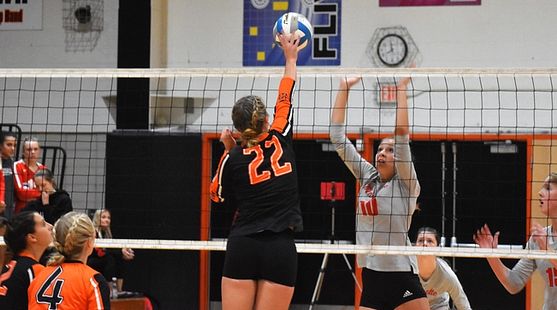 Click the thumbnails to see photos and videos, and hear interviews from Escanaba's Aleaha Lambert and Marquette Coach Ann Crandell-Williams.

ESCANABA---The Escanaba High School volleyball team picked up a rare Great Northern Conference win over the Marquette Redettes Thursday night, 3-0, at the Escanaba High School Gym. The scores were 25-18, 25-13, and 25-19.


"It felt really good to actually beat Marquette," Eskymo hitter Aleaha Lambert said. "It's been a while since we have. And especially, in THREE sets. We went back to our original rotation, instead of mixing all of our positions up (as they did Tuesday against Gladstone), and we played as a team, with great serve-receive, so we could set up a great offense."

Lambert, who missed last season with a leg injury, had a career high seven kills. Senior Katelyn Stalboerger had a typical solid match, leading the way with 15 kills, including the spike that ended the match in the third set.

Marquette has a young team this season, having lost stars Seiler Hruska (Wright State University) and Maria Millado to graduation, among others, the past two years.

"I was super, super happy with the way we passed tonight," longtime Marquette volleyball coach Ann Crandell-Williams said. "I was really happy with their defense. There were a lot of things that went well. There wasn't anything that I was insanely disappointed by, in terms of their overall team play."

The Eskymos celebrated the win after the match with their loud student section, as many of the boys joined the girls in a cicrle and smacked the floor before yelling "1-2-3 Eskymos!".


"It feels good," said Lambert, who's dad, Adam, is the coach. "I've never had seven ills before! Let's hope the numbers go up from here."

And for the Redettes, Crandell-Williams says coaching a young team without the usual superstars is actually going to make her a better coach.

"I kind of struggled to be a good leader to them early in the season," Crandell-Williams said. "We weren't catching as many wins that I know they're capable of. I had to figure out, how hard do I push, the positive between being positive and encouraging."

"I think I had to figure out how to not give them too much information at once, because then, the girls get overwhelmed. I've been learning more this season about myself as a coach than I have any other season."

THURSDAY'S OTHER U.P. MATCHES
Kingsford 3, Gladstone 0
Negaunee 3, Gwinn 1
Superior Central 3, Mid Peninsula 1
Manistique 3, Bark River-Harris 0