Escanaba Volleyball Posts Easy Win Over Gladstone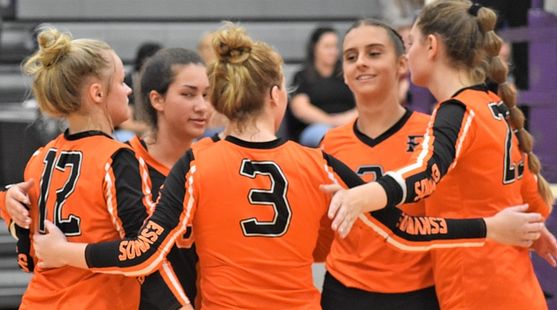 Click the audio buttons to hear comments from Eskymo Coach Adam Lambert, and from Eskymo Carney Salo.

ESCANABA---The Escanaba Eskymos volleyball team defeated the Gladstone Braves, 3-0, Tuesday night, in Escanaba, by scores of 25-19, 25-9, 25-17.

Escanaba Coach Adam Lambert experimented with several different allignments against the winless Braves, getting ready for Thursday night's match against Marquette.

"Gladstone had a tough time handling our front row," Escanaba Coach Adam Lambert said. "But they moved up the (Lilly) Johnson girl from their freshman group, and she did well, I thought. She had blocks on (Katelyn) Stalboerger, which is unsual, and she had a few other good hits. So, I give credit to Gladstone there for moving up Johnson and I hope they work with her a lot to build confidence in her game."

As for the Eskymos are concerned, Lambert moved his setter, Carney Salo, to defense as part of that experimenting.

"We opened up with a completely different rotation," Lambert said. "The only one who stayed in her spot was Stalboerger. Other than that, I moved people around. Carney has been my setter for 1,000 years, and she became a DS today, and I think she did pretty well. She's been working on that in practice and is really quick on her feet to get to the ball."

What did Salo think of this move?

"We were just putting me there to see what I could do," Salo said. "I feel like I did pretty good. I mean, obviously, I think I could have done better. I hold myself to a higher standard, but for my first time back there, I think I did decent."

Lambert says they worked on a lot of things in the match, including some tempo.

"Not wasting time was one of them," Lambert said. "We focused on that. Sometimes the girls get this dribble, dribble, spin, dribble, spin, dribble, spin, and then I'm going to serve the ball. I'm just trying to cut out the garbage and throw up the ball and hit it where we need to."

Both teams will be at home Thursday night for Great Northern Conference matches, as the Braves host Kingsford and the Eskymos host Marquette.