Bay College Volleyball Earns First Conference Win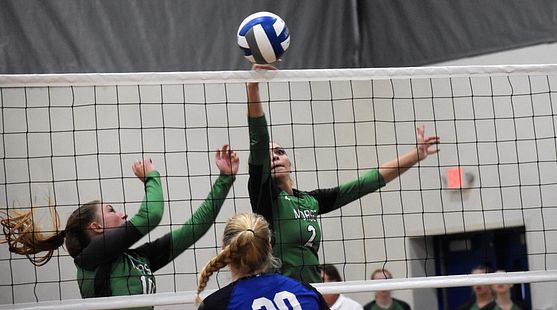 Click the thumbnails to see photos and videos from the match, and for post-game comments from Riley Johnson, Amber Caylor, and Norse Coach Dan Porath.

ESCANABA---The Bay College Norse volleyball team picked up their first-ever Michigan Community College Athletic Association win Tuesday night, beating fellow league newcomer North Central Michigan College out of Petoskey, 3-0.
The scores were 26-24, 25-15, 25-19.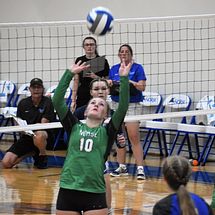 "I was a little worried that we would come out flat against the last couple of losses (against top MCCAA teams Grand Rapids and Muskegon)," Bay College Coach Dan Porath said. "But I think they responded really well. Since they're another new program, it kind of shows us where we're at. They beat us two out of three (at a scrimmage in Petoskey), but we didn't have line-ups set. So, I'm happy with where we're at, and I'm happy with where we're progressing."
Superior Central High School graduate Riley Johnson led the Norse with eleven kills, while fellow Cougar graduate Emma Rutter added five kills.

"I thought that we played very positive and aggressive," Johnson said. "We played as a team. It's exciting. We've been working really hard in practice, getting us to where we need to be. Playing those really tough teams put us in a position where playing the not-so-tough teams will be easier for us."
The Norse hitters were helped by nice sets put up by Amber Caylor, who had 27 assists in the three-set match. Defensively, Tori Jandt, who has won the MCCAA defensive player of the week award three times already this season, led Bay with 15 digs.

"We needed better communication," Caylor said. "Before, we weren't talking to one and other, and now that we are, we really pulled together and came through. There was a few times when we would mess up a little bit, but I think we did pretty good."
Leah Allan had a nice all-around match for the Norse, contributing eight kills and 13 digs in the victory. Gladstone's Alisa Sanvile added eight digs for the Norse.

The girls also took advantage of a loud home crowd to keep their spirits up.

"It was awesome," Caylor said. "Everyone was here to watch us and we had a lot of fans. It felt great."

"It was great," Porath agreed. "Bark River-Harris (volleyball players) was here to watch us tonight. It's great to see high schools coming to watch us play. That's only going to build the program. A lot of support tonight."
Bay College improved to 8-8 in the first season of Norse volleyball, and are 1-2 in MCCAA play. The NCMC Timberwolves fell to 0-6 on the season. The two teams will face each other again in Petoskey on October 11th. Bay's next match is this Saturday in Saginaw against Delta College.