Eskymo Tennis Beats Westwood; Falls To Negaunee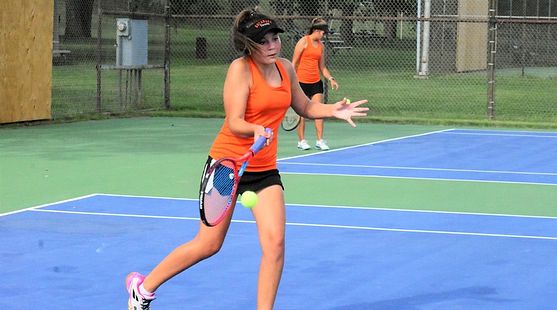 The Escanaba High School girls tennis team had a long day on the road Monday, playing two matches in two different towns. The Eskymos defeated the Westwood Patriots, 5-3, before losing to the undefeated Negaunee Miners, 6-2.

The match-up with Negaunee was highly-anticpated, as both teams had been rolling through their dual meets most of the season. But the Miners got the upper hand this time around.

"Negaunee's team is undefeated this year, and we had a bit of a humbling experience in playing them today," Escanaba Coach Chris Ogren said. "We were able to win at #1 singles and #1 doubles, but the other flights all went to Negaunee. Sophia Derkos was able to win in straight sets again today and she remains undefeated on the year."

Indeed, Derkos further cemented her spot as the #1 overall seed heading into the U.P. Finals, as she dispatched the Miners' top singles player, Jordan Enright, 6-2, 6-2. Earlier, against Westwood, Derkos outlasted the Patriots' Lexi Olson, 6-3, 6-3.

The other undefeated Eskymos, the #1 doubles team of Delaney McIntyre and Natalie Williams, lost for the first time this fall against Westwood's Izzie Marta and Alyssa Couveau,

It was a heck of a match, with the Patriot tandem winning the first set, 6-3, before McIntyre and Williams tied things up by taking the second set, 6-4. The decisive third set went right to the wire, with Marta and Coveau winning on the tiebreak, 7-6 (7-5).

McIntyre and Williams bounced back later to beat Negaunee's Stella Harris and Maddie Frustaglio, 6-3, 6-3, to start a new winning streak.

"It's never fun to lose your first match of the year, but it was encouraging to see how well our #1 doubles team was able to bounce back," Ogren said. "Delaney and Natalie have been having a tremendous season, and after today's showing, I'm confident they'll finish the year strong."

Against Westwood, Escanaba's Molly VanDamme had two extremely close sets, but she was able to come from behind in both of them to end up winning 7-5 and 7-6 (9-7) over the Patriots' Emersyn Nelson.

Escanaba's #4 doubles team of Carly Bowden and Molly Smale had to come from behind in the first set to win 7-5, and then won, 6-3, in the second set over Westwood's Clara Kruger and Abigail Johnson.

"These two are starting to come along and are building chemistry as a team," Ogren said. "With the GNC tournament on Wednesday, they'll have an opportunity to show some of their growth."