CLEAN SWEEP: Eskymos Roll Past Flivvers, 8-0

ESCANBAA---The Escanaba High School girls tennis team picked up another 8-0 win on Thursday afternoon, heading into a big week for the Eskymos next week with several showdown match-ups. Escanaba turned back Kingsford, 8-0, with six straight set wins.

Escanaba has back-to-back doubleheaders Monday and Tuesday, before competing in the Great Northern Conference meet next Wednesday in Kingsford.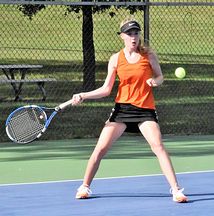 The Eskymos will face Westwood at 1:00 on Monday in West Ishpeming, and then at 4:00, comes the showdown against the undefeated Negaunee Miners. The next day, Escanaba has anoter 1:00/4:00 doubleheader, at home against Munising, followed by Menominee.

The 8-0 win over Kingsford during Eskymo Homecoming Week served as a good tune-up.

While the Eskymos cruised to straight set wins over the Flivvers in six flights, there were two that went three sets. At #4 singles, Escanaba's Maggie Martin lost the first set to Kingsford's Alette Shanks, 6-4. But Martin won 12 of the next 14 games, taking the next two sets, 6-2 and 6-0.

At #2 doubles, Escanaba's Leslie Purcell and Sam Manninen lost the first set to the Flivver duo of Addie Rutter and Linnea Grubb, 6-3. But Purcell and Manninen cruised in the second and third sets to win, 6-1, 6-1.

Escanaba's #1 singles player, and the top singles player in the U.P., Sophia Derkos, was completely dominant, beating Kingsford's Ashlyn Blaskowski, 6-0, 6-0. Derkos stayed undefeated on the season.

The #1 doubles team of Delaney McIntyre and Natalie Williams also stayed undefeated on the season, easily topping Kingsford's Lexie Vross and Ellyce Doenier, 6-1, 6-0.