NMU Golf Team Sets Records At Ohio Tournament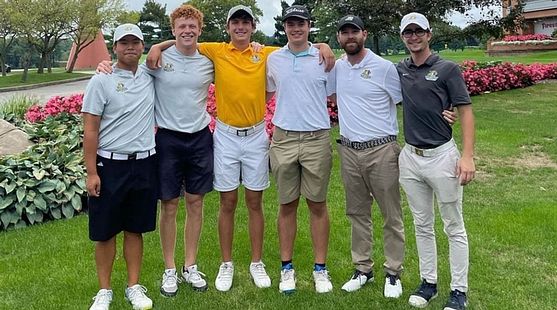 This story was written by NMU Sports Information

CANTON, Ohio - The Northern Michigan Universitry men's golf team made the journey down to Glenmoor Country Club where they placed tied for eighth.

The match consisted of 54-holes, two rounds on Monday and one on Tuesday.

The team shot a final score of 889 (291,296,302), which breaks the Team 54-Hole School
Record. The previous record was made in 2014 at the GLIAC Championships.

The first round was one for the books. The 'Cats collectively shot a 291 which tied them for the second-best round in 18 holes in school history.

Scott Spyra had an amazing round and shot a 69 and landed a third-place spot in the record books, which was his career low. He was tied for fourth place. Freshman, Tyler Annala, putt in for an even-par (72). Russel Sprecher was next in for the 'Cats shooting a 74. Returners Eric Yun and Caden Dunn respectively shot 76 and 97.

The 'Cats continued to see success in round two. With a score of 296, 587 overall, the team earned the second-place spot in the record book for team scores through 36-holes.
Eric Yun led the team in the second round with one under par (71). Spyra, Annala, and Sprecher all wrapped up the round with a 75. Caden Dunn finished the round with a 98.

The third round had a shotgun start on Tuesday morning. The men shot a 302 in the round.
Securing himself T21, Scott Spyra shot a 76 on the round.

Eric Yun and Tyler Annala both shot a 75 and finished tied for 28th. Russel Sprecher was the next Wildcat on the leaderboard. He finished the round with a 76 and landed T42. Caden Dunn wrapped up the third round with his best round of the tournament, a 91. He placed 87th.

The team will again make the road trip to Ohio, competing in the Doc Spragg Invite hosted by Findlay. The dates are set for Sept. 19-20, 2022.