Escanaba Tennis Team Cruises Past West Iron, 6-2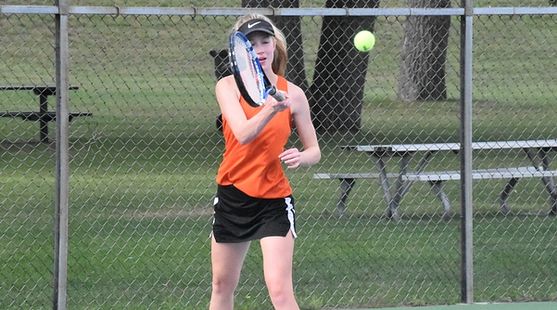 ESCANABA---The Escanaba High School girls tennis team posted another victory on Wednesday, taking down the West Iron County Wykons, 6-2, in Escanaba. The Eskymos won three of the four singles matches, as well as three of four doubles matches.

"After eight consecutive days without a tennis match, it was nice to get back out and play against another team," Escanaba Coach Chris Ogren said. "The most competitive match today came at #2 singles, where Sonya Maki lost a really close match. She played solid tennis all day, but her opponent, Seanna Stine, was rock solid, too. Sonya is one of the mots coachable players I have on the team, so it's always nice to see her make adjustments within a match."


Stine won the match, 7-6 (6-3 tiebreaker), and 7-5.

"I imagine these two will meet again in the future, and I like Sonya's chances in that one," Ogren said.

Escanaba's #1 singles player, Sophia Derkos, stayed undfeated on the season as she cruised past Aubrey Brice, 6-1, 6-2. Derkos is currently on course to be the top seed at U.P. Finals.

The #3 doubles match was a long one, with West Iron's Bailey Hoffart and Aubrey Richardson outlasting Esky's Isy Braun and Sophie Wagner.

The Eskymo duo won the first set, 6-3, before the Wykon doubles team won the second set, 7-5. The third set was tied at the end, with Hoffart and Richardson grinding out a 7-6 (6-4 in the tiebreaker) win.

The #2 doubles match was also a long one, with Escanaba's Leslie Purcell and Sam Manninen pulling out a three-set win over WIC's Autym Smith and Kaitlyn Smith, 6-4, 4-6, 6-2.

Escanaba cruised to straight set wins at #3 and #4 singles, and at #1 doubles.

"This West Iron County team will be with us at the Kingsford Invitational on Friday, so I'm hoping we end up playing them in some of these competitive matches again," Ogren said.

Before that, the Eskymos are scheduled to play in Norway Thursday afternoon.

WEDNESDAY'S OTHER U.P. TENNIS SCORES
Marquette 8, Munising 0
Westwood 8, Gwinn 0
Negaunee 8, Ishpeming 0