GNC VOLLEYBALL: Escanaba Stops Kingsford, 3-1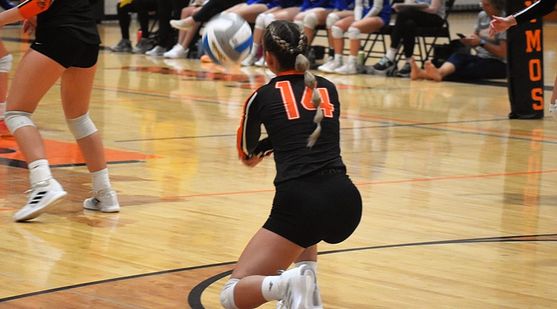 Click the thumbnails for photos and videos, and to hear interviews with Katelyn Stalboerger, Alaeha Lambert, and the Eskymo and Flivver coaches.

ESCANABA---The Escanaba High School volleyball team was on the court for just the second time Tuesday night, and the Eskymos picked up their second Great Northern Conference win by beating the Kingsford Flivvers, 3-1. The scores were 25-14, 25-14, 14-25, and 25-14.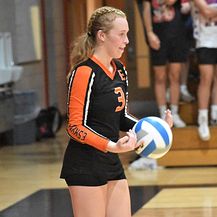 Katelyn Stalboerger led the way for the Eskymos with 23 kills. She says the team had to rebound after winning the first two sets, but then losing the third.

"It was all just mental," she said. "We all just started playing down, and we just had to get fired up with some kills and some good serves, and get some good points."

Eskymo teammate Aleaha Lambert agreed.

"We had a lot of momentum in the first two sets, and then in the third set, we lost a bit of momentum but we got it back in the fourth set," Lambert said. "I think we're an offensively-strong team. We're really good at setting up plays and hiiting the ball where it needs to be hit."

Her dad, Eskymo Coach Adam Lambert, says the third set was one to forget, but added that this was only the team's second match of the year (also a 3-1 win over Menominee last week).

"They girls came out strong today and they were mentallty-prepared," he said. "They played a s a team. In the third set, they kind of let each other down, and it was kind of, 'you go for it, I'll go for it, we're not really sure', but then they came back in the fourth set and was like, you know what, let's finish this. So, I'm really proud of the girls tonight."

Kingsford Coac Jackie Kreider also took a lot of positives from the match, despite the loss.

"I told the girls that I was super-proud of the fact that they stayed disciplined, and worked on the things the things that we need to work on to get ourselves better as we grow this year," Kreider said. "So, it was fun. I was happy to see that they fought back, and they didn't let any of the games get really out-of-control."

TUESDAY'S OTHER U.P. VOLLEYBALL SCORES
Negaunee 3, Marquette 1
Bark River-Harris 3, Munising 0
Manistique 3, Ishpeming 0
Stephenson 3, Carney-Nadeau 2
North Dickinson 3, Rapid River 0
Superior Central 3, Big Bay deNoc 1