Bay College Volleyball Goes 1-2 On Wisconsin Trip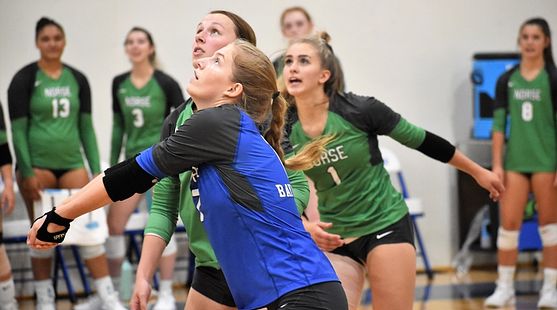 MADISON, Wis.---The Bay College Norse volleyball team salvaged the final match of a three-match road trip to Wisconsin on Saturday, beating the Dakota County (Minn.) Technical College Blue Knights, 3-1., at a triangular hosted by Madison College.
The scores were 25-19, 25-22, 13-25, and 25-22.
Bay lost earlier in the day to the host Madison College Wolves, 3-0, (25-17, 25-22, 25-20), and the Norse opened the road trip Friday night with a 3-0 loss at Milwaukee Tech (25-18, 25-14, 25-16).
In Bay's win over DCTC, Riley Johnson led the way with eight kills. Kylee Tadisch contributed five kills and Tianna Taylor had four. But the Norse had 23 errors to go along with their 27 kills as a team.
Defensively, Tori Jandt, who has been conference Defensive Player of the Week for each of the past two weeks, had 15 digs for the Norse. She added six service aces to the cause. Leah Allan had 13 digs and Alissa Sanville had 12.
In Saturday's loss to Madison, Johnson led the Norse with 11 kills and Allan added nine, while Tadisch chipped in seven kills. Jandt had 15 digs on defense and Allan had ten. Abby Rexford added seven digs.
In Friday's loss at MATC, Tadisch had seven kills, while Jandt had 17 digs and Allan added 16 digs.
After the weekend results, Bay's record stands at 5-5 on the season. The Norse are on the road again next weekend in Minnesota, with matches on Friday at Anoka-Ramsay, and on Saturday against Dakota County and Century College.
The next home match for the Norse will be on Sept. 16, and it will be their first-ever conference match, against Muskegon Community College.