Rudyard Bulldogs Roll Past Rapid River Rockets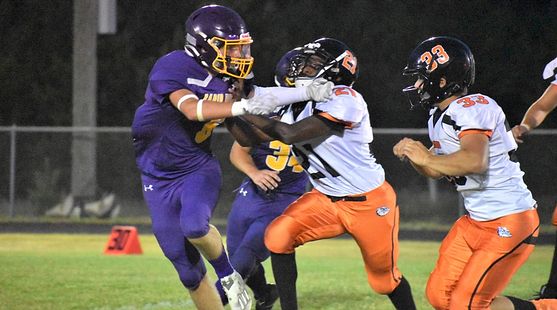 Click the thumbnails to see photos and videos from the game.

RAPID RIVER---The Rudyard High School football team rolled past the Rapid River Rockets, 63-0, Friday night in Rapid River.

Rudyard scored 35 points in the first quarter and after a Cam Peterson touchdown run midway through the second quarter, the Bulldogs were on cruise control, leading 42-0, at halftime.

To make matters worse for the Rockets, their top receiver, last year's All-U.P. Dream-Team selection Carter Johnson left the game with a painful rib injury and did not return.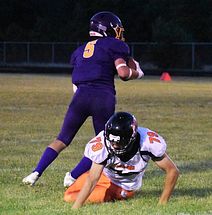 Rapid River tried to get things going in the third quarter after Taj Cavanaugh returned the opening kickoff 65 yards deep into Rudyard territory. And quarterback Blake Lundquist found Texas Cambron for a first down pass along the sideline in front of the Bulldogs bench.

But on the next play, Dylan McMillian stepped in front of a Lundquist pass and intercepted it, returning it from his own 13 yard-line all the way inside the Rocket 15. One play later, Aiden Bickel got the call on the ground and fought off a couple of defenders for the Bulldogs score.

Cavanaugh had another nice return for the Rockets, but the same thing happened: another interception as Bickel jumped high into the air at the 48-yard-line and took it 52 yards to the house for a "pick-six" touchdown.

And the icing on the cake came early in the fourth quarter when sophomore quarterback Damon MacDowell hooked up with Kallen Lawlor for a 29-yard touchdown pass.

Rudyard senior kicker Jacob Nolan made all nine of his extra point kicks, and he booted several kickoffs out of the end zone for touchbacks.

Both teams are now 1-1 on the season.