4-3: Bay Norse Volleyball Has Successful Beginning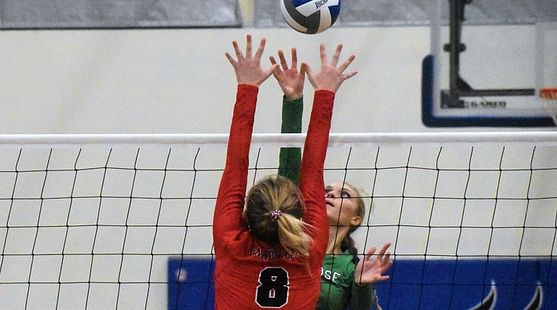 Click the thumbnails to see photos and videos from Sunday's match, and listen to interviews with Kaylee Tadisch, Abby Rexford, and Coach Dan Porath.

ESCANABA---The Bay College Norse volleyball team wrapped up another successful weekend on Sunday, posting a 3-0 win over Minnesota North-Hibbing.

The scores were 25-8, 25-19, and 25-22.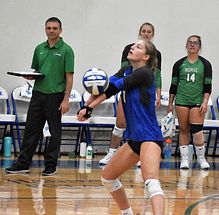 It wraps up the program's first two weeks with a 4-3 record, after the Norse split four matches last weekend in Illinois and picked up a win and a loss at home this Saturday.

"I think they're learning a lot, and they're getting a lot better," Norse Coach Dan Porath said. "From the first match that we played until now, we've improved a ton. If we just keep on that trajectory, we will be fine."

"I think, as a team overall, we need to get better with communication on the court," said middle hitter Kylee Tadisch, who was one of three Norse players with eight kills on Sunday. "(But) our swings are getting better and better. Reading the ball is getting better. We still have a good bit to work on. I feel like we did pretty well, especially for our first three conference games. And we'll be doing better later in the season."

The Norse enjoyed a lot of fan support during their first-ever home weekend, especially in Saturday's match against Alpena wen the stands were three-quarters full. There were a bit fewer people on Sunday, but a lot of family, friends, and fellow Norse athletes were on hand.


"The support is insane," said Escanaba High School graduate Abby Rexford. "We really didn't think that we were going to have this many people here. The community has come and they have really supported us. I think everybody is really excited because it's something new. It's something fresh, but it's been great."

"The atmosphere was great," Porath said. "It's everything we were hoping for for Bay volleyball. It's exciting."

Rexford didn't play on Sunday because she tweaked her knee in Saturday's matches, but she says that having the chance to play college volleyball in her hometown is a great feeling.

"I didn't think that I would get the opportunity to play after my four years at Esky," Rexford said. "I'm glad to be playing for Bay. Dan (Porath) has me a little bit of everywhere. I'm getting really comfortable playing back-middle. In club, I played left-back. But it's been good."

On Sunday, the Norse dominated the first set as five different players recorded kills. Bay also have five service aces, with Amber Caylor getting four of them."

The Cardinals stabilized to make the final two sets much more competitive.

In the second set, Bay made nine attack errors, but the Norse defense had 26 digs in the set (eight by last week's conference Defensive Player of the Week Tori Jandt and seven by Gladstone's Allie Roman). In the third set, the Norse made only two attack errors.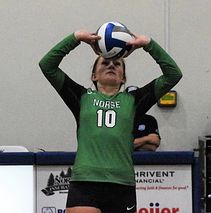 Tadisch had eight kills along with two Superior Central girls: Riley Johnson and Emma Rutter. Jandt led the way defensively with 24 more digs, adding to her hot start.

"Both of my middles have come a long way," Porath said. "We're tough in the middle."

Leah Allan added six kills and 15 digs for the Norse.

"I happy with where we're at," Porath said, then added, "we're just learning."

Bay College is on the road next weekend. The Norse will play Milwaukee Area Technical College Friday night in Milwaukee, and will play in a triangular in Madison, Wis., on Saturday against Madison College and Dakota County (Minn.) Technical College.