HOME COOKING: Bay Norse Volleyball Earns Split
Story written by Bay College SID Mike Pankow.

RRN Sports.com photos and videos

ESCANABA, MI – The Bay College Norse (3-3) split an exciting afternoon of volleyball on Saturday afternoon. After dropping an intense, back and forth matchup with Alpena Community College (2-0) three sets to two, the Norse bounced back to sweep Minnesota North – Hibbing Campus (0-2) in three straight sets.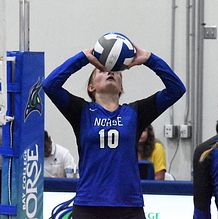 In the first match, Bay played from behind in much of the first set. Although the home team rallied from down six in the early going, the Ladyjacks never trailed, taking the fist set 25-23.

The Norse regrouped and fought hard in the second set. In a back and forth set, the two teams found themselves locked at 16after a gutsy, diving save out of bounds by Tori Jandt (FR, Peshtigo, WI), allowing Bay to recover and score the point and go on a run, grabbing a five-point lead. They had trouble closing out the set however, and Alpena stormed back to tie it up at 24. Bay evened up the match though by taking the next two points.

The Ladyjacks looked out of sorts in the third. Unforced errors and miscommunications on the court allowed Bay to jump out to 14-4 lead. The Norse were not able to hold on as a timeout helped Alpena start to swing momentum back in their direction. The Ladyjacks chipped away at the lead and rattled off the last eight points to take the advantage in the match.

The fourth set returned to an evenly matched give and take. It wasn't until later that the Norse made a pair of runs and held off Alpena for a 25-21 win.

Unfortunately for the Norse, the fifth and final set did not go their way from start to finish.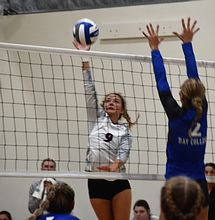 Alpena took control early, controlling the action and winning by a final of 15-10.
Riley Johnson (FR, Chatham, MI) showed flashes of being dominant and ended with 11 kills. Emma Rutter (FR, Chatham, MI) and Kylee Tadisch (FR, Coleman, WI) each finished with eight kills. Amber Caylor (FR, Wausaukee, WI) was credited with 33 assists.

On the defensive side of the net the Norse were led once again by Jandt with 32 digs. Leah Allan (FR, Oconto, WI) added 23. Johnson tallied three solo blocks.
Alpena then ended their day with a sweep of Hibbing to remain undefeated.

The Cardinals did not find any reprieve in their match with the Norse. Bay came out hot and built a lead in the first set, forcing Hibbing to fight to tie the set back up at seven. After the visitors took an 11-9 lead, Allie Roman (SO, Gladstone, MI) delivered with two consecutive service aces to swing the momentum back to Bay. The Norse ended up winning 25-20.

The second and third sets were more in favor of the home team. Bay slowly built a lead in the second, and ended up with a 25-18 win. Amber Caylor was on point with her service game in the third. Her six aces led the Norse to a 25-10 route in the final set.

Johnson and Tadisch were efficient in their attacks. Johnson tallied nine kills and finished with a .471 attack percentage, while Tadisch put down seven kills and had a .316 percentage. They were aided once again by Caylor who contributed 26 assists. Caylor also had nine service aces and five digs in a superb effort.

Jandt has entrenched herself as the backcourt leader on defense, this time being credited with 16 digs. Alissa Sanville (FR, Gladstone, MI) had eight digs, while Allan was credited with seven.

The Norse finish off the weekend with another home match. Minnesota North – Hibbing will remain in town and look for revenge in a Sunday afternoon contest beginning at noon.