STRONG START: Bay College Volleyball Goes 2-2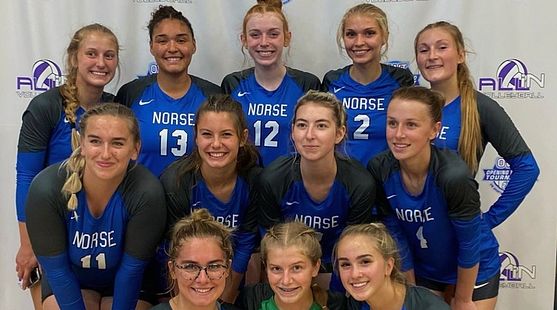 Story written by Mike Pankow, Bay College SID. Our original story is posted below that.



ROCKFORD, IL – The Bay College Norse Volleyball Team (2-2) played their first ever matches this past weekend, and ended with a split. After dropping three straight sets to a tough McHenry County team, the Norse earned their first program win by sweeping Milwaukee Area Tech in three sets. On Sunday the Norse kicked off the day with a 3-0 win over St. Louis Community College before falling to Elgin in the finale.


McHenry County came into the matchup ranked #10 in the preseason NJCAA Division 2 poll. Despite the Norse defense coming up with 83 digs, the relentless attack from the Scots proved to be too much for the Norse to handle. McHenry ended with a .225 hitting percentage in the match. On the other end, the Norse ended with just 15 kills in 110 attempts, and were credited with 16 attack errors.


After dropping the first two sets by scores of 25-11 and 25-12, Bay started to put it together. The third set saw the first positive attack percentage in a set in school history, and put pressure on McHenry County, but the Scots prevailed with a 26-24 final set, sweeping the Norse in their first ever competition.

Tori Jandt (FR, Peshtigo, WI) led the Norse defense with 21 digs.


The Norse carried that momentum over into their evening match. They opened the match with 11 kills and no errors en route to a 25-21 victory in the first set. Bay continued to control the match, winning the last two sets by identical 25-17 scores, giving them their first victory in program history.


Riley Johnson (FR, Chatham, MI) led the way with eight kills. Leah Allan (FR, Oconto, WI) tallied 22 digs, while Jandt ended with 20 digs and three service aces. Amber Caylor (FR, Wausaukee, WI) ended the match with 26 assists, four service errors, and 11 digs.


Bay's offense perhaps showed a sign of things to come when they have it all together. The Norse committed just five attack errors in their win over St. Louis Community College. They collected 43 kills in 117 attempts and hit at a .325 attack percentage for the match.


Bay took the first two sets by scores of 25-23 and 25-16, before St. Louis refused to go away in the third. The two teams slugged it out, with neither one able to put the other away. The Norse finally took the final set, but not before both teams piled up scores in the 30's. Bay took the final set by a score of 34-32.


Johnson finished with 13 kills in the matchup and Kylee Tadisch (FR, Coleman, WI) ended with 11. Caylor was credited with 38 assists. Jandt finished with 18 digs, Abigail Rexford (FR, Escanaba, MI) tallied 12 digs, and Allan added 11 digs.


In the final matchup, the Norse found themselves in a battle with Elgin Community College. Bay committed just four attack errors and had 11 kills in the opening set, but fell 25-23. The second set did not go their way, as they collected just four kills and had six errors, falling 25-14. Bay led late in the final set, but Elgin came storming back to take it by a score of 25-23.


Tadisch led offensively with nine kills. Caylor totaled 20 assists. Jandt ended with 18 digs, while Allan had 16 and Rexford finished with 13 digs.


"It was a great first weekend," said Head Coach Dan Porath. "We played some great competition, so win or lose, the girls are better for it. I am pleased with the direction our team is heading and can't wait to showcase our team this weekend at home. Go Norse!"


The Norse are set for their first ever home matches. On Saturday, August 27 they will host a triangular and start it off with a non-conference match against Alpena Community College at 1 pm. They follow that up with a 5 pm match against Hibbing Community College. On Sunday they Norse will compete in a second match against Hibbing at noon.


ROCKFORD, Ill.---The Bay College Norse volleyball team played its first-ever matches this weekend at the "All-In" Opening Weekend Tournament in Rockford, Ill.

The Norse came home with two wins against two losses.

On Sunday, Bay defeated St. Louis (Mo.) Community College, 3-0. The third game was a grueling 34-32 win for the Norse. The scores were 25-23, 25-16, 34-32. Norse then played Elgin (Ill.) Community College and lost a very competitive 3-0 match 25-23, 25-14, 25-23.

On Saturday, the Norse got their program's first-ever win, 3-0, over Milwaukee (Wis.) Area Technical College. The scores were 25-21, 25-17, 25-17.

That followed a match against the tenth ranked team in the country, McHenry (Ill.) Community College. Bay lost the firtst two games handilly, 25-11, and 25-12, before rebounding to take the third game extra time before losing 26-24.

Against Milwaukee Tech, Riley Johnson led the way for Bay with eight kills. Leah Allen added six kills, including the one that ended the second game, and contributed 22 digs. Kylee Tadisch had six kills and Tianna Taylor added five kills in the win.

Against St. Louis, Johnson led the way with 13 kills and Tadisch had 11. Tori Jandt had 18 kills and Abby Rexford had 12 digs. Alissa Sanville contributed three service aces, and Emma Rutter had six kills and six digs in the marathaon victory.

Against Elgin, Tadisch led the way with nine kills, wnile Jandt had 18 digs and Allan had 16 digs. Rexford added 13 digs.

Against McHenry, Allan had six kills and Tadisch five. Allan also had 18 digs. while Jandt had 21 digs and Amber Caylor had 16 assists.

More details from the weekend will be posted by Bay College Sports Information at www.baynorse.com.

Bay has its first ever home matches next weekend in a triangular with Alpena Community College and Hibbing (Minn.) Community College. On Saturday, the Norse will play Alpena at 1:00 and Hibbing at 5:00. Those matches will be broadcast live on FM-93.5 and AM-600 in Escanaba, AM-1450 on the Bay West campus in Iron Mountain, and on-line at www.rrnsports.com. Tickets for the matches are available at www.baynorse.com.