Rapid River Football Hoping To Return To Playoffs

Click to see photos and videos from Wednesday's practice, and interviews with Blake Lundquist, Carter Johnson, Grady Smith, Evan Horwitz, and Rockets Head Coach Jack Smith.

RAPID RIVER---The Rapid River High School football program is hoping to make a playoff push this season after winning just two games a year ago and missing the playoffs.

The Rockets have a new head coach, a larger roster, and a new schedule.


Steve Ostrenga, who coached the Rockets either as a head coach or assistant for 27 years, stepped down this summer. He is still helping out behind the scenes, but the new man in charge is his longtime assistant, Jack Smith.

Smith is excited about this year's Rocket team, with returing quarterback Blake Lundquist, his son Grady at center, and 2021 All-U.P. Dream Team wide receiver Carter Johnson on the field.

"We're off to a good start, but we've got a lot of work to go," Coach Smith said. "Our guys are ready to go, they're enthusiastic, and working hard. We're looking for these guys to lead the younger guys. We threw those young guys to the wolves last year as sophomores off the JV team so they took their knocks. But they're back, ready to play."

"The experience will definitely help, with more confidence, more trust, and more team bonding," Johnson said. "I'm expecting (throwing) a little more to the oter reecivers, and hopefully, I can get some more myself."

Fellow receiver Evan Horwitz is one of those guys expected to step up and help Johnson.

"I want a lot of yards, a lot of touchdowns," Horwitz said. "It's been going pretty good. We're all getting together and practicing hard. It definitely helps that we got a lot of playing time last year."


What does he need to improve on?

"Definitely, self-confiendce," Horwitz admitted.

For his part, Lundquist says his team needs to improve on the little things.

"We need to come together as a family and be more disciplined than last year," Lundquist said. "And I've just got to be better at looking-off the safety so that I'm not staring down one receiver. That's where I got into trouble last year."

"I'm just getting to know the plays again." Grady Smith said. "It was a long off-season and I forgot about them. I just have to hit harder, block harder, and really, blocking downfield this year is gonna be a big help."

The Rockets have 22 players this season, which is pretty strong for an eight-man program.

And they will play a new schedule filled with teams from te Eastern U.P., rather than juggernauts like two-time defending state champion North Central, and playoff teams like Lake Linden-Hubbell and Ontonagon.

Not that this year's schedule will be easy. Playing Rudyard, Cedarville, Pickford, Munising, Pellston, and Munising will also have its challenges. But Smith believes that his Rocket team can be competitive against all of those Eastern U.P. opponents.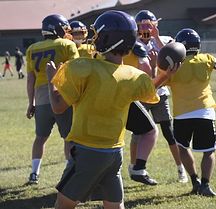 "It's a new start for us," he said. "We haven't played those guys in a little bit, so it's like playing all new teams again. We're emphasizing coming together as a family, so that we don't quit. We don't have a lot of size, so we've got to stick together with what we've got."

With Smith as the new head coach, it is a different pre-season for many of the Rockets veterans, who have always played under Ostrenga.

"It's a big change," Johnson said. "Obviously, O has been here for as long as I can't even remember. But, so far, I like the coaching staff, and how it's changed."

"I've been the waterboy for my brothers' teams for a long time, so I've been with O for so long, so it's a little weird without him." Lundquist said. "But the coaching staff has been pretty good so far this year. They said they want me to be a big leader this year, and try to lead this team a championship."

Rapid River opens its season with home games on Aug. 26 against Engadine and Sept. 2 against Rudyard. The boys make the short trip on Sept. 10 to face rival Superior Central.