Escanaba Football Team Looks To Erase '21 Losses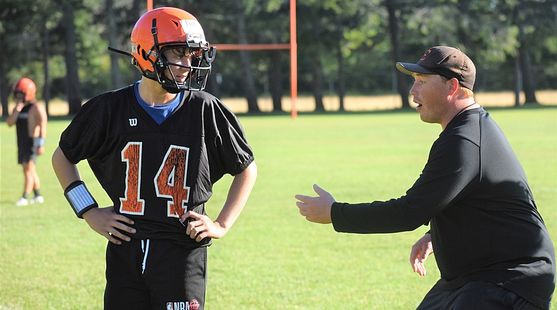 Click the thumbnails to see practice videos, and see interviews with Casey Bray, Ben Johnson, Layne Johnson, Timmy Sylvester, and Coach Bailey Lamb.

ESCANABA---The Escanaba High School football team is looking to the 2022 season as a way of redemption after a miserable season a year ago that saw the Eskymos compile a 1-8 record.

The Eskymos have a new look, with young 2014 graduate Bailey Lamb taking over as head coach. And coming with him: a new spread offense, hoping to utilitze explosive skilled players like quarterback Casey Bray, running backs Ben Johnson and Trent Lawson, and a takented corp of receivers.


"I just love being here," Lamb said. "This is my favorite place to be in the world, is on this field. It's beem really good. The kids are pretty juiced. They've been flying around, and it's been a great time. I think a lot of them want to prove...I think a lot of people aren't going to give them a lot of credit to start this year, but I think we're going to turn some heads."

"We're gonna try our best this year," senior lineman Layne Johnson said. "I think we have a good coaching staff that's gonna set us up right. I think we're gonna try a lot harder. I think our line's going to try a lot harder because we missed a lot of blocks last year. I'm gonna have to have faster feet and get quicker on the outside because I play tackle."

Escanaba got an early start on practice, having their first one at 12:01 a.m. Monday, and then on Tuesday, split between offense in the first half, and defense in the evening portion.

"I'm excited to get back out here with the boys," senior quarterback Casey Bray said. "We're going to put in the work, and we're going to have good team chemistry. It will be better. Our coaces are young, they have good ideas, and they're going to point us in the right direction."

"I'm so excited," junior running back Ben Johnson added. "It's been a long summer full of lifting and seven-on-seven (scrimmages). I'm ready to get out here and play some real football. I'm just so thankful to be out here. I think we're going to work a lot better as a team, and we'll be a lot quicker to the ball, and all of us have a year of varsity experience, so we're ready."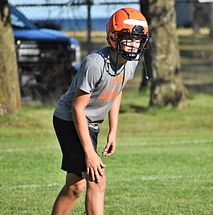 The Eskymos will be depending on some senior leadership in the trenches to give Bray and his weapons time to work with this new spread offense.

"I've been lifting (weights) and coming to workouts, so I'm excited to be out here playing some football," senior lineman Timmy Sylvester said. "I think we have some good chemistry, and it's a group we've played with for a long time. We'll have to seal blocks better, and be faster off the ball. We have a tough schedule this year."

Indeed they do. The Eskymos have only three home games, starting on Aug. 25 against Sault Ste. Marie. Their other home games are Sept. 9 against Petoskey and Sept. 16 against Menominee (for Homecoming). After that, every single game is on the road, with two trips downstate to Gaylord and Alpena on back-to-back weeks.

"I think they're fired up and want to kind of change the narrative that's been going on," Lamb said. "I don't think last year is a good indication of what they're capable of, and I think they're ready to go."

"I want to throw less interceptions this year," Bray said. "And more completions. That's always good. On defense, I hope to get some reps at linebacker this year, so that would be good. I think our defense is going to be improved this year."