BUZZ-SAW ALERT: Blues Beaten By Powerhouse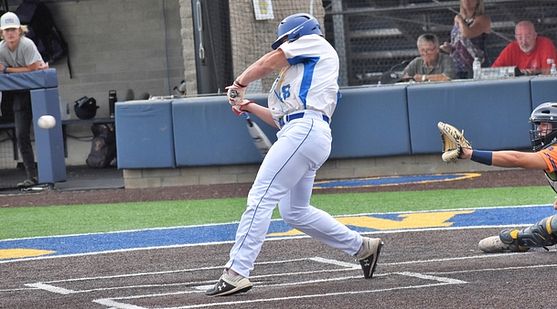 TRENTON---The Marquette Blues American Legion Baseball team ran into a stacked line-up of college-level players Friday night, and lost to the Trenton Steel, 12-1, at Trenton High School.

Parker Maki threw everything he had at the Steel, but the host team pounded out 18 hits, including nine in an eight-run first inning, to easily mercy the defending Class A American Legion state champions. Marquette Manager Mark Pantti says this was an unfair fight.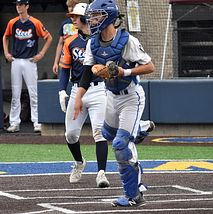 "We found out shortly before this game started that Trenton has been together for two games," Pantti said. "They're a hand-selected, college-level program team. Guys that aren't in college already have committed to colleges. They folded last year, and it was a little bit suspect that they're back this year and the powerhouse that they are out there, so now, it makes sense."

Pantti says the Trenton team was put together simply to host, and to win, this state tournament, and that it robs other teams like his and the other U.P. squads, which played dozens of games together througout the months of June and July.

"It's too bad because it ruins the true spirit of American Legion Baseball," Pantti said. "I'm proud of my guys. Our boys, they fought. It's a 12-1 score, but at the same time, we had one bad inning against this team and we gave up eight runs. We settled in after that and they did a phenominal job. So, I'm absolutely proud of them."

Brock Beaudrie had four hits in the #2 hole for Trenton, which played its first game together as a "Legion" team Thursday night (a 22-1 win over Clinton).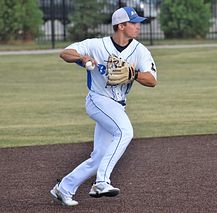 Nick Mator had three run-scoring base hits in the #7 spot, as the Trenton boys routinely hit shots to the outfield fences for extra bases. Those that didn't go to the fence landed in front of Marquette outfielders who were playing deep.

A highlight for Marquette was a long solo home run in the third inning for Nash Riipi, who entered the game for the injured Dakota Maki (back). Parker Maki also had a base hit to center field, and Nick Pantti had a pop fly single for Marquette's third and final hit.

Marquette will be back in action Saturday morning with a game against the surprsing Escanaba Cubs, who beat both Clinton and Gladstone on Friday.

"I'm considering our morning game the championship game," Pantti said, "because those are true (Class) 'A' teams. They are true Legion baseball teams."

Game time is 10:00. It will be broadcast on FM-100.3 The Point in Marquette, FM-93.5/AM-600 in Escanaba, and on-line at www.rrnsports.com.