Frusti, Sarles Lead Marquette To Extra Inning Win

Click the thumbnails above for photos, videos, and interviews from the games.

Story was written and photos and videos were taken by RRN Intern Braden Kerr

TRENTON--- Kyle Frusti was the walk-off hero for the Marquette Blues against the Gaylord Baseball Club. With the bases loaded in the eighth inning Frusti shot a ball through the left side of the drawn in infield to win the game for the Blues.

After the game Frusti said of his at-bat, "I'm just looking to put a ball in play. That's all I gotta do. I got a low inside fastball, was able to turn on it and put it past the third basemen. It feels great but we still got one more to go."


Marquette looked well on their way to victory up 6-2 in the sixth inning when Gaylord mounted a furious comeback to tie the game at 6.

Sam Sircely led off the sixth with a double and the next four batters all singled to score Sircley and Austin Vanderveer. Conrad Korte scored on a ground out and Logan Bozzer scored on a bloop single from Chris Koscielniak.

After being in control for most of the game the Blues found themselves in extra innings against Gaylord. Starter Dakota Maki left the game after six innings due to back tightness and his brother Parker Maki came on in relief.

Dakota Maki pitched six innings allowing six runs on twelve hits while walking two and striking out three.

Parker Maki pitched 1 2/3 innings of shutout ball walking one and striking out one. Isaac Sarles came in with two outs in the eighth and a runner on. Sarles walked on batter and then got Dillon Croffe to ground out and escape the inning.

Sarles led off the bottom of the inning with a single and advanced to third when Brenton Bellanger hit a towering fly ball to left field that Logan Bozzer was unable to track down putting runners on second and third. An intentional walk loaded the bases for Frusti. Frusti took the first pitch and then sent the second pitch past the shortstop to drive in Sarles and win the game.


Marquette Coach Mark Pantti has confidence in the young Sarles, "He has done an amazing job of stepping up every single year and to get to this point in a state tournament game when knew we could call on him and he was ready for the call and did a phenomenal job."

Frusti was impressed with the performance, "That was huge for Sarles coming in as a young guy playing on the Reds. For him to come through really shows his maturity and talent."

"I know I got a job to do. There's good hitters out there. Its just about locating fastballs and using off speed to keep them off balance," Sarles said of his plan in relief.

Early in the game both teams traded runs in the first inning. Sam Sircely doubled home two runs to open the scoring for Gaylord. Logan Peterson singled home the tying run in the bottom the inning.

The Blues grabbed the lead in the second inning when Frusti doubled home two runs. Frusti led Marquette with three hits and three RBI.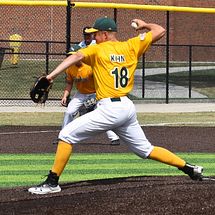 Pantti said of his catcher, "Kyle has done an absolute phenomenal job with the young guys, even with the old guys. They all respect him, they all listen to him, he leads and that's what we pressed on Kyle to do this year and I can't express how much enjoyment I have just coaching him and watching him really truly lead this team."

In relief for Gaylord Jason Kihn provided more than expected scattering seven hits over 5 1/3 innings allowing two runs while striking out five.

Sam Sircely drove in two runs on the big double to lead the Gaylord baseball club. Three players had multiple hits, Chris Koscielniak, Quinn Schultz, and Conrad Korte.

Marquette advances to the semifinals to play Trenton with a berth in the championship on the line. The game will take place on Friday at 5 PM at Trenton High School. The game will be live on 100.3 FM and online at rrnsports.com.