Negaunee Juniors Blanked In State Semifinals, 7-0

Click the thumbnails to see photos and videos taken by RRN Intern Braden Kerr, and listen to commens from Negaunee Coach Chris Steele, as well as the radio broadcast of the bottom of sixth and top of seventh innings.

ROCKFORD, Mich.---The Negaunee Junior Major Little League All-Stars (age 13-14) played six strong innings of baseball in the state semifinals Tuesday night in downstate Rockford, before having a rough seventh inning and losing to Birmingham, 7-0.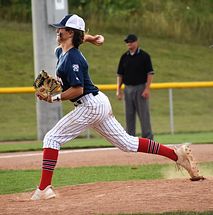 Birmingham went on to win the state championship later Tuesday night, beating Western Grand Rapids in eight innings, 3-2.

Negaunee had plenty of chances to score in the game, but a mixture of bad luck, good Birmingham defense, and clutch Birmingham pitching was the difference.

Birmingham took a 1-0 lead in the first inning when Max Kepic led off with a single and scored on a two-out base hit by Mike West. And it stayed 1-0 all the way to the final inning, as both teams missed out on scoring chances.

Negaunee got a two-out base hit from Tristan Slater in the second inning, and he stole second, but was stranded there when Cooper Petrocik grounded out. Birmingham had a chance in the third inning when Pat Faust crushed a double to the fence but Negaunee pitcher Aiden Steele got a strikeout and ground out to end the scoring chance.

In the bottom of the third, Mason Swenor walked, stole second and third, and was ready to score when Owen Cardinal smoked a shot toward left field. Birmingham third baseman Ryan Brockhaus made a great catch, however, keeping it a 1-0 game.


In the fourth inning, Birmingham had a runner on third with one out when Joe Shelide hit a chopper toward first base. Matt Gill took off for home, but Negaunee first baseman Slater got the ball and fired it to Cardinal at the plate to get the out.

Negaunee had a big chance to score in the bottom of the fourth when Steele was safe on an error and Evan Dellangelo got an infield hit. Slater smacked a base hit to left field, but Steele was held up at third base. With the bases loaded, Birmingham starting pitcher Max Kepic was removed and West came in to throw.

He struck out Cooper Petrocik for the first out, and then Ethan Juntti hit a ground ball toward short. Dellangelo tried to distract Kepic (who was now at short) and made a move as the baserunner that was ruled as interference, ending the inning with three men on base.

Birmingham had another baserunning adventure in the fifth inning when Kepic singled with one out. Faust hit a ground ball to short, and the out was made at second base. Faust beat the relay throw to first base, but overran the bag and was tagged as he tried to get back to it.

So, it was still 1-0 heading into the bottom of the fifth inning.


Devin Jurmu was hit by a pitch with one out, and he went to second base when West was called for a balk. But West got a pop up and strikeout to end that scoring threat.

In the bottom of the sixth, Negaunee had its best chance. Steele and Dellangelo led off with singles, and Birmingham brought its ace, Will Fedor, to pitch. He delivered, striking out the next three batters, keeping his team in front, 1-0, heading into the final inning.

Negaunee never had a chance for a possible walk-off win as things fell apart in the top of the seventh inning. Shelide led off with a base hit over a leaping second baseman, then Steele hit Luke Kovachevich with a pitch.

Then Jack Conners was safe on an error to load the bases.

Steele, who pitched well for Negaunee all night long, ran out of pitches on his 85-limit,

Morgan Robar came in to pitch, and things did not go well. He hit Kepic to force home a run, and then after Robar struck out Faust, Fedor came through with a two-run single through a draw-in infield to make it 3-0. Robar then walked three guys in a row and uncorked a couple of wild pitches, and Birmingham had all of the insurance they needed.

Negaunee finished as District Eleven and Upper Peninsula Sectional champions, and went 3-1 at the state tournament. Birmingham, which had only nine players, went on to upset the host Western team, 3-2, as Matt Gill had the RBI single in the eighth inning.