OH, SO CLOSE! Gladstone 9-10 Girls Fall In Semis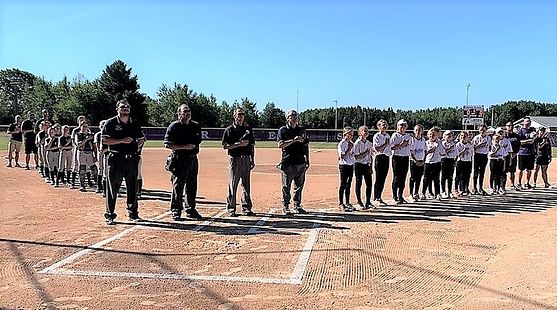 Click the thumbnails to see photos and videos from the game

GLADSTONE---In one of the best Little League softball games we've seen this summer, the Gladstone Minor Girls (age 9-10) battled Kalamazoo West Portage to the wire in the state semifinals Tuesday morning at Gladstone High School.
Gladstone battled back twice to somehow tie the game against an outstanding West Portage pitcher before the girls from Lower Michigan emerged with a 3-2 walk-off win.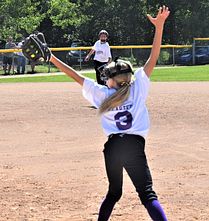 Gladstone manager Joe Larson says his girls worked as hard as they could.
"They're battle-tested and they proved it," Gladstone Manager Joe Larson said. "We went extra innings in district finals with Escanaba, and we went nine innings with Grosse Pointe in pool play. They know what it takes to compete in close games. They battled back twice when probably everybody had written them off in this game, too. I couldn't be more proud of them. They played hard."
West Portage pitcher Tessa Jewell was in command the whole day, using a strong fastball and a wicked change-up to baffle the Gladstone batters. But the girls managed to get a run in the top of the fifth and sixth innings to stay alive.
West Portage took a 1-0 lead in the first inning on an RBI single by Christina Adams. It stayed that way until the fifth inning, when Gladstone's Ruby Tuljus got a single, stole second, and came home on a base hit over the second baseman's head by Jordyn Drielick. The next batter walked, putting two on base, but Jewell bounced back and got an inning-ending strikeout.
But in the bottom of the inning, after a leadoff single, Jewell bunted and the Gladstone infielders couldn't make the clean play. An error brought home the go-ahead run. Adams ripped her third hit of the game to center field, but Gladstone pitcher Addy Sanville bounced back and got the third out, keeping it a 2-1 game.
In the top of the sixth, Sanville led off with a walk and went to second on a wild pitch. With two out, Tuljus smacked a single to center field that got past the outfielder. That brought home Sanville to make it 2-2, and Tuljus went all the way to third base.
But for the second straight inning, with a runner in scoring position, Jewell got a strikeout to prevent Gladstone from taking the lead.
Sanville walked the leadoff batter in the bottom of the sixth, which triggered the West Portage "short offense".

Paige Wolsey out down a bunt, and an error on the play put runners at second and third with no outs. West Portage got the walk-off when Abigail Parr got a base hit to left field, bringing home the winning run.
Jewell, who also shut down Escanaba in West Portage's win in the quarterfinals, was in control most of this one. She struck out 17 batters, meaning the infielders and outfielders only had to make one play on defense. Jewell allowed four base hits and walked two batters in the complete-game win.
"She's great," Larson said of Jewell. "She puts the ball anywhere she wants. She changes speeds good. She's going to be great for many years to come. I can't wait until the next time we see her."
Sanville allowed three runs (only one earned) on five hits and four walks. She struck out eight batters in the five-plus innings of work, and took the loss.
West Portage stranded eight baserunners.
Camryn Ayotte added a hit for Gladstone.
"I'm sure a lot of teams wrote us off because we weren't district champions," Larson said. "Our motto for this whole tournament is that we belonged here. The girls, I think, proved to everybody that they did belong, and they darn near made a run at this thing."
West Portage will face either Croswell-Lexington and Grosse Pointe in the state championship game Wednesday morning at 10:00 in Gladstone.