Esky and Gladstone Minors Win Pools to Advance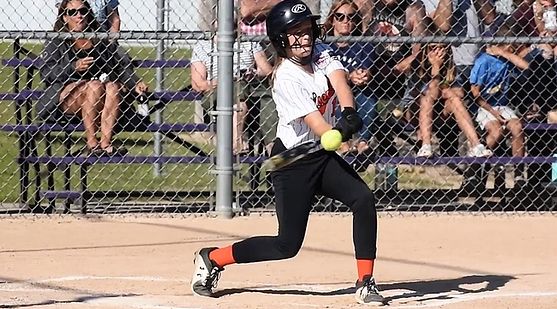 This story was written by RRN Intern Braden Kerr

GLADSTONE--- Both the Gladstone and Escanaba Minor All-Star Teams won their final pool play game on Sunday to improve to 3-0. Gladstone rolled to a 16-1 victory over Edwardsburg while Escanaba scored two runs in the sixth to triumph 4-3 over Hudsonville.

Marquette and Norway both dropped their final pool play game to end their seasons. Norway fell 18-9 to Alpena Huron Shores and Marquette lost 12-8 to Bay County.

ESCANABA 4 vs. HUDSONVILLE 3--- Kinsley Williams was the catalyst at the plate Escanaba going 3-3 with two doubles while driving in one run and scoring three including the eventual game winner.

Going into the sixth inning the game was tied at two. Izzy Perryman reached on an error to start the inning. Williams stepped up and doubled to left field for her third hit of the game. Perryman scored from second base to give Escanaba the lead.

Gabby Parlato hit a hard ground ball and reached on an error that allowed Williams to score to make it 4-2.

Hudsonville would not go quietly with their season on the line in the bottom of the inning. Izzy Willimore singled up the middle with one out. Brinley Vanstedurn reached on an error that allowed the run to score to bring Hudsonville within one.

Jessica Fox singled and Vanstedurn tried to score from second base when the relay throw got her out at home to preserve the Escanaba lead. Braelyn Grandchamp got the next batter to groundout to end the game.

Grandchamp pitched a complete game allowing three runs, all unearned, on seven hits while walking one and striking out four.

Escanaba improved to 3-0 to win their pool and advance to the quarterfinal round where they will face West Portage. The game will take place on Monday at 11:30 AM ET at the Gladstone Sports Park. The game will be live on 93.5 FM, 600 AM, and online at rrnsports.com.

GLADSTONE 16 vs. EDWARDSBURG 1--- Gladstone rolled to victory over Edwardsburg to improve to 3-0 and claim their spot in the quarterfinals. A big second inning fueled the rout as Gladstone put ten runs on the board.


Addy Sanville had an impressive performance in the circle by allowing one earned run on no hits while striking out nine batters in three innings.

Four players had multiple RBI for Gladstone. Reagan Carter, Brynlee Larson, and Sanville drove in three runs while Jordan Drielick drove in two.

Gladstone advances and will take on Rogers City on Monday at 9 AM ET at the Gladstone Sports Park. The game will be live on 93.5 FM, 600 AM, and online at rrnsports.com.

ALPENA HURON SHORES 18 vs. NORWAY 9--- Norway came out on the wrong side of a high scoring affair to drop to 0-2 in pool play. Norway fell behind 10-0 but brought the game within three runs following a five run fourth inning. Alpena scored four runs in the sixth inning to pull away late.

Norway did not advance from their pool and their season comes to a close after being a surprise addition to the state tournament. They competed to the very end against an elevated level of competition.

BAY COUNTY 12 vs. MARQUETTE 8--- Marquette was unable to hold an 8-5 lead in a back-and-forth affair with Bay County. The two 0-2 teams were battling for pride on Monday and did not disappoint.

Bay County took a 3-1 lead after the first inning before Marquette responded with a three run second inning to capture the lead. Bay County scored one run in the third and fourth innings while Marquette put two across in both to take a 8-5 lead. Bay County scored seven runs in the fifth and sixth innings to complete the comeback and secure the victory.

Marquette's season comes to an end following the loss and elimination from the state tournament. This team was the first in over a decade for Marquette Little League Softball to advance the state tournament.