YOOPER BOWL: Negaunee Majors Stop Gladstone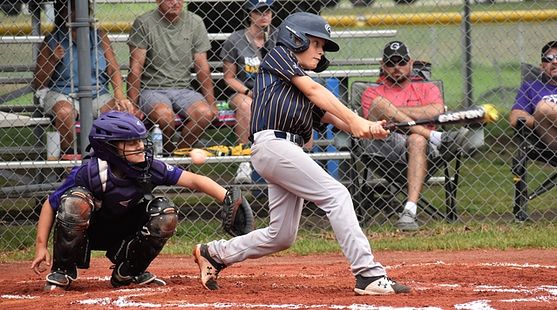 Click the thumbnails to see photos and videos taken by RRN Intern Braden Kerr, and to listen to interviews with both coaches and Negaunee pitcher Killean Ryan.

KENTWOOD, Mich..---It was the Yooper Bowl seven hours from home.
The Gladstone and Negaunee Major Little League (age 11-12) All-Stars met each other in Grand Rapids on Sunday with nothing on the line but U.P. Bragging rights.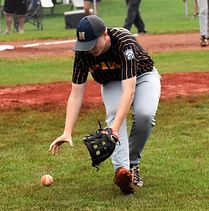 The two teams were already eliminated from moving to the quarterfinal rounds, so when they played on Sunday, it was a loose atmosphere, albeit competitive.

In the end, Negaunee emerged with a 3-2 win to earn their first victory of the state tournament, getting revenge on Gladstone for losses during the travel ball season.
"Hats off to the Gladstone team, they battled the whole way," Negaunee Manager Joe Dost said. "In early June, they kind of put a whooping on us. To see the growth of our kids in that time frame is awesome. I can't say enough about the community support that we've had. We fundraised a lot of money to help support coming down here because this is a once-in-a-lifetime experience."
"It feels good," Negaunee winning pitcher Killean Ryan said. "We kept battling and battling, and eventually, it worked out. It felt food because we were battling with two very good teams (Petoskey and Commerce) and we wanted to go home with a win against Gladstone. Just to brag about who got the (Upper) Michigan title."
"They have heavy hearts right now and there's a lot of tears in our huddle after the game," Gladstone Manager Mike Sanville said. "The message is: yes, we want to come back and play more baseball. It's a great, great group of boys who came together as a team. I'm very proud of them. I can't say enough good things about all of the boys."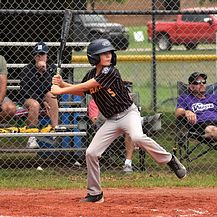 The game started more than an hour late as Western Little League grounds crews struggled to get the water off the field after overnight severe thunderstorms hit the area. Once the game began, it was a pitcher's dual between Ryan and Gladstone's Carter Sanville.
Gladstone had the first scoring chance in the third inning when Henry Sholten was safe on an error and Braylin Carter smoked a double to the center field fence. With runners at second and third, Ryan was able to get Sanville to pop up to end the inning.
Negaunee scored its first run on three Gladstone errors, one of them on a dropped third strike that catcher Landon Pepin threw into left field.
It stayed 1-0 until the fifth inning, when Ryan smacked a double with a man on first base. Sanville ran into his 85-pitch count limit, bringing Pepin in to throw.
Drew Ayotte followed with a two-run double to make it 3-0 for Negaunee, a shot that Proehl nearly made a fantastic catch on. Those were the only two hits that the Miners got, but they were enough.
Gladstone mounted a comeback in the final inning. Sanville got a one-out single, and then Nick Proehl got a base hit of his own. Pepin walked to load the bases, and Ryan ran out of pitches, Waylon Harvala came on to pitch, and threw a wild pitch that scored two Gladstone runs.

Logan DeMay drew a walk to put two men on base, but Harvala struck out Dylan Nelson and Kolton Breitzman to end the game.
Ryan earned the pitching win, striking out ten batters and walked only two. Harvala got the save. Sanville took the loss.
"I was just trying to pitch for contact," Ryan said. "Hopefully get some ground balls, and let my team get the defense. It was not my best performance today, but I did my best."
"My hope is that the energy that comes out of this is that we can get 12-plus boys that are dedicated to playing baseball," Coach Sanville said. "Just reinvigorate the Gladstone program, have pride in the Gladstone program, send a 12-year-old team down here again next year, and a 13-year-old team down to the state tournament. We just haven't even tried to participate in the 13-year-old tournament and I think we're just close enough to having enough kids that we can do it."