Opportunistic Red Wave Get Extra Inning Win, 8-6

Click the above thumbnails for photos and videos from the game.

GAYLORD--- The Menominee Red Wave and Northern Michigan Patriots went to extra innings to decide their game Friday evening in Gaylord. The Red Wave took advantage of Patriot mistakes and errors to win by a score of 8-6.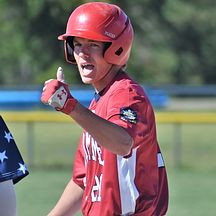 Wyatt Riley reached after a dropped third strike, advanced on a sacrifice bunt, and scored the go-ahead run on an error in the top of the eighth.

Both offenses got off to a hot start in the first inning. The first four Menominee batters singled to start the game. Zach Starzynski brought home Wyatt Riley and Jimmy Coldren brought home Adrian Mercier. Kennison Boivin grounded out to score Starzynski.

The Patriots answered in the bottom of the inning when Derek Hebner launched a no-doubt two-run home run to left field.

Ian Gorzynski doubled home Ethan Russell and scored on a passed ball in the second inning to push the Menominee lead back to three runs.

Tristan Simrau singled to lead off the third inning for Northern Michigan, after a sacrifice bunt, Evan Douglass singled up the middle to score Simrau.

The Red Wave would answer the Patriots again, and in the top of the next inning Ian Gorzynski would single and score on a single up the middle from Zach Starzynski.

Kaleb Schroeder led off the bottom of the fifth with a walk, and that would start the big inning for the Patriots.


Schroeder, an East Jordan High School graduate, will play baseball at Bay College in Escanaba next season.

After a single and another walk, Grant Richarson singled home Schroeder. Another walk brought in Tristan Simrau and Patrick Gallagher scored the tying run on a fielder's choice.

The game would remain tied through the seventh inning and would go into extras.

Menominee would breakthrough in the eighth inning to score two runs, Wyatt Riley scored on an error and Zach Starzynski scored on a ground out.

Adrian Mercier pitched a perfect last inning to pick up the win for the Red Wave.

Menominee scored eight runs on eight hits and had no errors defensively in the win.

Northern Michigan scored six runs on ten hits and had four errors defensively in the loss.

The Red Wave took advantage of the errors from the Patriots to come out on top Friday. Four defensive errors and untimely walks proved to be the difference for Menominee despite getting outhit.

Menominee meets Gaylord tomorrow at 12:30PM ET and Northern Michigan at 5:30 PM ET. Then the Red Wave will travel to Sault Ste. Marie to take on the Wood Ducks Sunday.