Copper Country Flames Sweep DH From Marquette
Click the thumbnails to hear post-game comments from Copper Country's Reed Heathman and Manager Wes Frahm.

HOUGHTON---The Copper Country Flames American Legion Baseball team swept both ends of a doubleheader from the Marquette Blues, 4-3 and 10-5, Thursday night at Houghton High School. It was a rematch of last year's state title game, which was won by Marquette.

Not on this night, however, as the Flames continued their hot regular season play.

In the opener the Flames scored four runs in the first inning. Brandon Norkol unloaded on a Parker Maki pitch and ripped a bases-clearing double to right field. Norkol eventually scored on a fielder's choice groundout by Levi Frahm.

In the fifth inning, the Blues put together a two-out rally. Marquette got a two-run double from Keith Judici and an RBI single from Kyle Frusti to get to within 4-3.

But Flames pitcher Nick Horning went the distance to earn the win, getting the final three outs in the sixth inning after the leadoff man reached on an error.

Horning threw 109 pitches, allowing four hits and three walks, and striking out five Marquette batters.

"It was nice to see him pitch the way he's capable," Flames Manager Wes Frahm said. "He had a great season for Houghton High School, and he's going to Wisconsin Lutheran and is going to pitch for them. Our defense played well behind him for four innings, then coughed up a couple in that fifth to give them some life, but nice job by Nick to throw the complete game."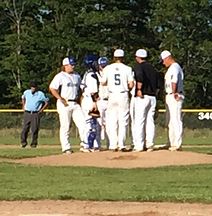 Maki, who pitched at Bay College last spring, took the loss, going 4 1/3 innings and allowing four runs (two earned) on five hits. He hurt himself with six walks, and maxed out 1t 105 pitches in that fifth inning. Frusti threw the final 2/3 inning and used three pitches.

In the nightcap, the Flames scored five runs in the second inning to build a 6-0 lead and cruised from there. Reed Heathman had three hits, including a home run.

"I was seeing the ball really well today," Heathman said. "I had a rouigh tournament back in Escanaba, the last two days there, and B.P. (batting practice) the other day really helped. I focused on watching the ball more, and being patient at the plate, and it really paid off today."

Brody Caster had a two-run hit for the Blues in a losing effort.

Frusti threw 4 1/3 innings and allowed eight runs (all earned) on eight hits befire maxing out at 100 pitches (he actually had two pitches remaining). Pete VandenAvond tossed the final 1 2/3 innings and allowed two runs (one earned) on three hits.

Levi Frahm threw the first four innings for the Flames, and got the win despite allowing five earned runs on seven hits, with five strikeouts and three walks. He threw 97 pitches.

Kade Farrell threw two scoreless and hitless innings and picked up the save, having entered the game with his Flames team ahead just 7-5 going to the fifth inning.