Indians Honor '19 Title Team; Beat Red Wave, 9-5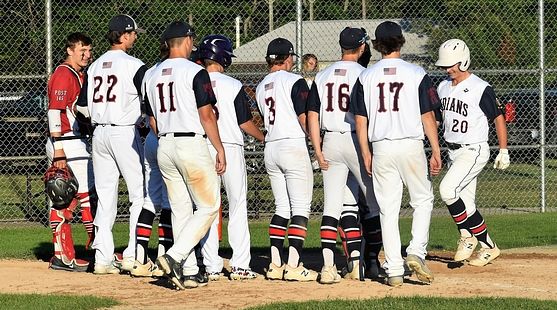 Click the thumbnails to see photos and videos taken by Julie Martin. Also click the AUDIO buttons to hear the 2019 Indians celebration ceremony, listen to Coach Justin Jurek reflect on that team, and hear post-game comments from Aedan Creten, Braden Sundquist, Johnny Soderman, and Coach Scott Kwarciany.

GLADSTONE---The Gladstone Indians American Legion baseball program honored its 2019 state champions, and then the '22 version of the Indians smashed three home runs to beat the Menominee Red Wave, 9-5, Wednesday night, at Don Olsen Field.

"It was cool just to catch up with them, and see them," Gladstone 2019 manager Justin Jurek said after the ceremony dedicating a new metal sign honoring the team concluded. "I haven't seen a couple of them in over a year, so, to be able to catch up with them, see them, and see a lot of the parents, too, who I haven't seen in a while."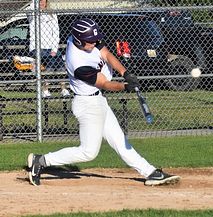 Jurek reflected on that 2019 team's playoff run, which ended with a walk-off base hit by Cody Frappier in the eighth inning of the state championship game over Trenton, after the Indians had fallen behind twice late in that game in downstate Gladwin.

"It was a roller-coaster game, but honestly, we always felt we were where we needed to be, even when we were behind," Jurek said. "No team was winning one after another, a lot of teams were in contention. But for us to win three in a row, man, nights like these with recoignition for the guys, I think it goes a long ways for the community, even for the guys on this Indians team."

"A lot of them don't know the guys who were on that (2019) team, and so for them to come and participate, and see those guys, I think that's something cool."

The game itself was not your typical Gladstone-Menominee battle because both teams were saving pitching for this weekend's tournaments. The Red Wave are headed to Gaylord for three games, and the Indians are headed to Antigo, Wis., for four games.

Menominee got three runs in the top of the first inning off Indians starter Cam Kelly. Zach Starzynski smoked a double to bring home the first run, then Matt Mellinger bounced a two-run single to right field to give Menominee a 3-0 lead.


Red Wave starter Adrian Mercier walked two but did not allow a hit in the first two innings, and he struck out four batters. But he was pulled in favor of Ethan Russell in the third.

With one out. Tyler Darmogray drew a walk, and then Nick Martin blooped a single into center field. Braden Sundquist came up and launched a three-run homer to left field to tie the game.

"I think Braden's home run was a big point in the game," Indians Manager Scott Kwarciany said. "We gave up three runs in the first inning. But after he hit that one, it was like we could start over, and we were in a 0-0 game again. The guys could just settle down."

'I've been seeing the ball pretty well recently, just haven't been able to get anything down," Sundquist said. "Finally, I got a good barrel in the air and I knew I hit it pretty good. I wasn't quite sure how far I hit it, but I knew it would probably be close."

Cam Kelly followed with a triple and the Indians tried to squeeze him home, but batter Johnny Soderman was ruled to have been hit by the ball in fair territory, and was called out. Soderman said he was bumped on the play by the Red Wave catcher (Coldren).

"We'll argue that another time," Kwarciany said after the game, still clearly annoyed by the call.


Sundquist came on to pitch for Kelly after two innings, and he threw two scoreless innings. He did give up hits to Jimmy Coldren and Kennison Boivin in the third inning, but Coldren was thrown out trying to make it to third base. Menominee had three baserunners thrown out on the bases in the first three innings of the game.

Gladstone took the lead in the fourth inning when lefty Aedan Creten smoked a solo home run to right field to lead off the inning.

"It felt pretty good after striking out my first at-bat," Creten said. "I just went up there confident, and on the second pitch, I just hit it."

Menominee then made three straight errors that gave the Indians a 5-3 lead.

In the sxith inning, though, with Darmogray on to pitch, Boivin smoked a dlouble to the fence, Kaden Starzynski walked, and Jesse Sampson was hit by a pitch to load the bases. Darmogray got a called third strike on Gable Buck, and then Blake Borths hit a ground ball to the right side of the infield. Creten had to go get it from first base and threw it wide of Darmogray covering at second base. Two runs scored, tying the game at 5-5.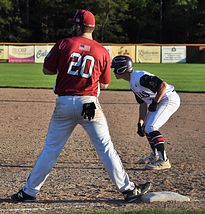 "That was probably (second baseman) Casey's (Alworden) ball," Kwarciany said. "And I think Tyler got there a little late. But we played over it. Mistakes happen. We made that one that cost us two runs, but we caught a break when they made some mistakes."

Indeed, that's what happened in the bottom of the sixth inning. With one out, Darmogray's fly ball was dropped in center field. He stole second, went to third on a wild pitch, and scored on a pop fly single by Sundquist, who had four runs batted in for the contest.

After Sundquist stole second, Red Wave manager John Lauzer decided to intentionally walk Kelly. It backfired when Soderman, after hitting two long foul fly balls, crushed a Zach Starzynski fast ball over the left field fence for a three-run homer, making it a 9-5 game.

"I wanted to be aggressive at this at-bat," said Soderman, who earlier had taken two called third strikes and had the controversial squeeze call go against him. "He just kept throwing me fastballs down the plate, and his curveball wasn't hitting. So, I just drove 'em (foul) until then finally, I got barrel on it and it went over, I guess."

Gladstone improved to 7-7-1 on the season. Menominee's record fell to 5-10-0.