Escanaba Cubs Roll Past Iron Mountain Golds 12-2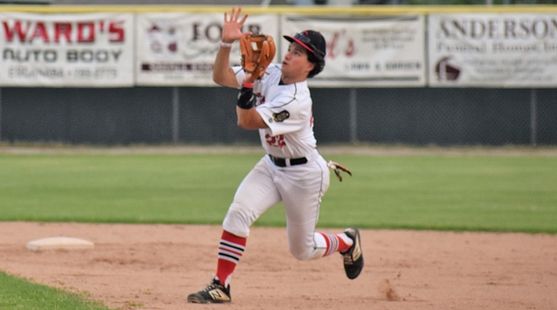 Click the thumbnails to see photos and videos, and listen to post-game comments from Hunter Lancour, Eli Gardner, and Golds Manager Jeff McLean.

ESCANABA---The Escanaba Cubs American Legion Baseball team scored eight runs in the second inning and rolled past the Iron Mountain Golds, 12-2, at Al Ness Field.

Nine of the twelve Escanaba runs were unearned, thanks to seven Golds errors.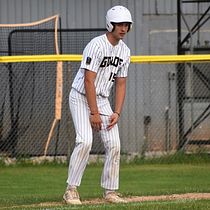 Escanaba got a two-run double from Chase Cloutier during that big second inning, and Nick Kolich rifled one to the right field fence that brought home a run.

Jack MeEvers was held up at third base, putting Kolich in a long rundown, but Kolich stayed in it long enough for McEvers to touch home before Kolich was tagged out.

That was one of the few highlights for the Golds, who struggled to play defense behind strating pitcher Isaac Lorenzoni. Lorenzoni threw 59 pitches, with only 30 of them for strikes. The errors behind him meant that all nine runs against him were unearned.

Meanwhile, Escanaba ace Hunter Lancour cruised after giving up a run on an RBI single by Chase Carlson in the first inning. Lancour struck out six batters and scattered four hits.

"We've got to be better," Iron Mountain Manager Jeff McLean said. "I think we have a championship-caliber team here. But when you come out here against a Hunter Lancour, and make that many mistakes, you're just not going to be successful."


Escanaba had six base hits, with Cloutier and Kolich having the biggest. Ben Johnson had a two-run single that Golds first baseman Nolan Amundson dove for, stopped, but had no play on. Eli Gardner added a base hit and drove in a pair of Cubs runs.

"They weren't throwing too many strikes," Gardner said. "We were trying to work counts and get walks. We did that, and we got a lot of runners on base. We stole quite a bit., and we moved the ball around quite a bit, and put people across the plate. It was good."

Lancour was happy to pitch again at Al Ness Field, after a successful high school season.

"It feels good to get back on the Esky mound," said Lancour, who will play college ball this fall at Delta College in Saginaw. "Honestly, I thought after high school, I wouldn't get another one. It feels great to be back up there. It's a good team win, because that's a good team."

Iron Mountain, which split a doubleheader in Menominee Wednesday night, hadn't played a game in ten days, because of various cancellations.

"We were rusty, but that's no excuse," McLean said. "We didn't execute. We have to be better."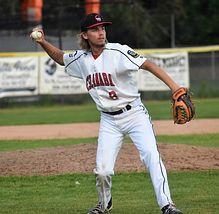 Lancour says his pitch selection changed after that first inning.

"You just have to be confident when you go out there," Lancour said. "You've got to realize what they're sitting on. After the first inning, I could tell they were sitting on the fastball because the first two batters roped the ball. So, I just threw off-speed, and they couldn't hit it."

Much of the game was played with an edge, as the Golds because increasingly frustrated with the officiating. The Golds coaches and players were unhappy with some calls on the field, as well as balls and strikes, and it flared up a couple of times in the early part of the game.

"We got a little carried away," McLean admitted. "There were a couple of issues with pitch counts and stuff, and us coaches got a little carried away a bit, and the dugout got out of hand. From there, it was just downhill."

For his part, Lancour brushed off the chirping that was happening on both sides.

"I think both teams have a competitive edge," Lancour said. "But, yeah, I don't know what happened. That's Coach's thing. I just played the game."

The Golds, which won the Gregg Johnson Memorial Tournament on this week two weeks ago, fell to 8-4 on the season. They'll play in a round-robin tournament this Saturday on the historic Felch Field, playing Niagara at 12:00 CT, and the Kingsford junior team at 3:00 CT.

Both games will be broadcast on WZNL-FM (94.3 The Breeze) and radioresultsnetwork.com.

Escanaba (5-5) will have its rivalry battle with Gladstone Friday night. Game time is 7:00. It will be broadcast on WCHT-FM/AM (93.5/600) and on-line at www.rrnsports.com.