Red Wave Closes Firecracker Tourney With 1-0 Win

Click the thumbnails to see photos and videos, and post game comments.

MARINETTE, Wis.---The Menominee Red Wave American Legion baseball team salvaged the final game of the Firecracker Tournament in Marinette, beating the Green Bay Preble Hornets, 1-0, in nine innings, on Sunday afternoon.

It was a 0-0 game throughout, as North Central's Adrian Mercier threw an outstanding game before running out of pitches. Fellow Jet Ian Gorzinski came on for one batter, but then another Jet, Wyatt Riley, came on to get the final three outs in the bottom of the ninth inning.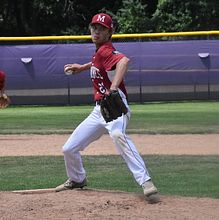 Menominee scored its only run in the top of the ninth inning when Mercier beat out an infield hit to lead off. He was bunted to second base by Zach Starzynski, went to third on a wild pitch, and scored on a pop fly base hit to center field by Stephenson's Jimmy Coldren.

As the ball started to drop, the two Green Bay outfielders collided, so instead of a sacrafice fly, Coldren had an RBI double.

"I'm going up there and I'm thinking, I don't know we're going to do a suicide squeeze or if they're just gonna let me hit," Coldren said. "I didn't get a bunt sign called, so I was like, all right, I just need a line drive or even just pop it up in the outfield. I ended up doing that, and they ended up missing on it, causing an error, and they ran into each other. So I ended up with a double and he scored and it was just a great feeling to have that happen."

Menominee tried to add another run when Ethan Russell smacked a base hit down te left field line, but Gable Buck was thrown out at the plate.

The one run was good enough for Riley, who closed it out on a pop fly to Starzynski on the infield, and after giving up a single and hitting a batter, got a fielder's choice grounder to Starzynski to end the ballgame.

Menominee lost a heartbreaker the nignt before to Marinette, 6-5. The Red Wave scored two runs in the top of the seventh inning to take a 5-3 lead, but in the bottom of the seventh, Alex Rupert delivered the walk-off base hit for Marinette.