BUDDIES BATTLE: Eskymos Stop Emeralds, 10-3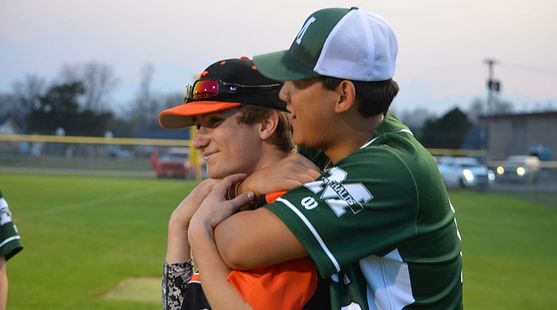 Click the thumbnails to see photos, video highlights, and post-game interviews with Scott Hiller, Trent Lawson, amd Eskymo Manager Scott Hanson. Also click the AUDIO button to listen to radio commentary with Detroit Tigers 1968 World Series champion John Hiller. Some photos courtesy of Heather Sprader.

ESCANABA---It's quite often when two high school baseball teams meet on the field, some guys just don't like each other, and enjoy inflicting pain on their oppoent.

Win by as many as you can, boys, and laugh all the way back to the dugout. Maybe even look over your shoulder and send a gesture or two at your opponent.

Maybe a rude social media post later?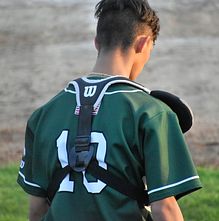 But that is not the case when the Escanaba Eskymos and Manistique Emeralds play ball.

Many of the guys on both teams are close friends, and that is clear every time this group of boys, and their parents, gather for an eveneing of baseball.

Both teams go all out, make no mistake, but there's no nastiness, and when it's all over, the guys are posing for pictures and giving each other hugs and high fives.

That's what happened Friday night as the Eskymos defeated the Emeralds, 10-3, under comfortable sunny, 70-degree conditions at Al Ness Field.

"Credit to Manistique," Eskymo Manager Scott Hanson said. "Jon (Manager, Bintner) is doing a super job with them. Every time we play them, they battle. They dont back down at all. Their kids make plays, and I like their team. They're super-good kids. It's a good relationship."

"Two years in a row, Friday night, under the lights!"

Three Emeralds players, Jack McEvers, Bryce Blixt, and Carson Sprader, play for the Escanaba Cubs American Legion team with many of the Eskymo players.


On Friday, Sprader pitched again, and hung in there, throwing five innings before the Eskymos scored some runs against him in the fifth inning. Blixt, behind the plate, threw out two Eskymo runners trying to steal in the first inning. And McEvers played a strong middle infield.

Jared Hanson, a Central Michigan University recruit, threw three scoreless and hitless innings for Escanaba. He struck out six batters, including all three in the second inning.

Sprader, a St. Norbert (Wis.) College recruit, gave up single runs in the first, second, and fourth innings, but kept Manistique in the game, trailing 3-0 entering the fifth inning,

Hanson was pulled after three innings to keep his pitch count down, giving way to Chase Cloutier, who is close friends with many of the Emerakds players. He threw a 1-2-3 inning in the fourth inning, but had problems in the top of the fifth.

Cloutier pegged two batters (including his buddy Blixt), and Parker Graphos had an RBI single. McEvers also got a base hit against his buddy Cloutier, so there was another pitching change.

Trent Lawson, who's also friends with many of the Manistique guys, walked Griffin Snider with the bases loaded. That brought Manistique to within 3-2, but Lawson buckled down to strike out Elmer Zellar and Isaiah Brow, to end the threat and keep Esky in the lead.


"I came in with bases loaded, and, I mean, that's not a position I want to be in to start," Lawson said. "I just started figuring it out, trying to change my release point on the fastball, and my stride, and it seemed to work. I played with them a lot over the past few years. I knew Bryce, he's a good hitter, and Jack loves the high balls. I knew to go after him with those. So, I know them pretty well and can pitch to their tendencies."

In the bottom of the inning, Lawson ripped a sold base hit to left field agaisnt Sprader.

That brought up Scott Hiller, known for his speed on the bases. He tried to bunt the first pitch but fouled it off. The second pitch, he drove to deep left field. It looked like the ball would clear the fence for his first career home run, but it hit halfway up the fence.

Hiller had to settle for an RBI triple as Lawson scored, making it a 4-2 Eskymo lead.

"It just came off the bat, and I instantly thought it was gone, too," Hiller said; "I just heard the crowd, and I heard the ball come off the bat. So, I started jogging to first. And it just hits the top of the fence. I was really disappointed!"


"I'm thinking that I'm gonna have an easy walk home," Lawson said of watching Hiller's shot while he stood at first base. "I watched it hit the fence, and I was like, Oh, God, I've got to get on my horse now! I thought it was gone, for sure."

"He's swinging the bat so well, so I just let him swing," Scoytt Hanson said. "But it's a Catch-22 with Scotty. I know that when we get into a district tournament game, I want him to be comfortable putting down a bunt for a base hit."

The next man up, Delta College recruit Hunter Lancour, usually is asked to rip a gap shot to plate some runs. But Hanson had Lancour put down a squeeze bunt, and he went up and got a high pitch to execute the bunt. Hiller scored, making it 5-2.

"That's, again, leading up toward districts," Hanson said. "There's gonna be times where we're gonna need a run. And I want the boys comfortable enough to if we have to do it, that they're not shocked that that's the situation."

Bon LaChance, who's been smacking the ball all season, put another one into the left field corner for a double. Lancour, however, was sent around third base by Coach Hanson, but then was told at the last moment to go back to third base. He didn't make it, tagged out by Sprader after getting into a pickle between third and home plate.

Another of the Eskymos who has played many games with the Manistique boys, senior Matt Zimmerman, smoked a Sprader pitch up the gap for an RBI double.

That made it a 6-2 game. After that, the game was pretty much over as Lawson struck out five batters in the final two innings and was charged only with one unearned run.

Escanaba added four runs in the sixth inning, with Lancour, Ben Johnson and Cloutier all adding RBI base hits. Escanaba improved to 16-7 on the season. Manistique fell to 4-10-1.