LONG NIGHT, SWEET NIGHT! Wildcats Move On

Click the thumbnails to see photos and video highlights, and hear post-game comments from Bryan Parzych, John Kerr, and Coach Matt Majkrzak.

MARQUETTE---The Northern Michigan University men's basketball team waited through a 95-minute-long power outage, and then worked overtime to beat the Lake Superior State University Lakers, 99-94, in the GLIAC quarterfinals Wednesday night in Marquette.

The final buzzer on NMU's first home playoff game in 15 years sounded at just before 11:00 p.m., but it was super-sweet for the 'Cats as they won their eighth straight game and advanced to the GLIAC semifinals this Saturday against Michigan Tech up in Houghton.


"I'm exhausted," NMU Coach Matt Majkrzak said after his team weathered xeveral LSSU runs only to give up a miracle three-pointer at the end of regulation. "I just told the guys, that we're better, I thought we were better all night. I said, we're not playing great, we just need to be better for five minutes (of overtime), so just kind of flush it and move on. I thought our guys did a great job. You could see it in their eyes. They were focused."

Max Bjorklund, who was hounded all night by the LSSU defense, made a pull-up triple with a man in his face with 16 seconds left to give NMU an 86-83 lead.

That came after the Lakers got a triple from the left corner from Andy Soma to tie it at 83.

After Bjorklund's triple, LSSU tried to tie it but David Wren missed a three, also from the left corner, and Bjorklund got the rebound and was fouled with 2.5 seconds left. Bjorklund missed both free throws, setting the Lakers up with one last chance to prolong their season.

Wren inbounded on the baseline, and threw a pass the length of the court to Blake Cassidy, a Pellston High School grad who split his time between LSSU's JV and varsity this season. He heaved up a prayer from the left corner and buried the three at the buzzer, tying it at 86.


"My bad on that play," Majkrzak said. "I should have had Ben (Wolf) on the ball. Bad c0aching. Steve's been doing this a lot longer than me (Heddinga, LSSU's coach for the past 14 years). He got me there, so hats off to him. He's the best coach in the league. But that got our anger back. Maybe we needed to blow the game and go to overtme."

"I personally felt that I gave up that three at the end," NMU big guy John Kerr said. "My coaches and my teammates picked me up and made sure I didn't have my head down. "

NMU was in complete control in the overtime period, as the Lakers were in severe foul trouble, especially with theit big guys. They had five players foul out, includiing senior Malek Adams, who scored a game-high 42 points on 16-of-35 shooting from the floor for LSSU.

"He's incredible," Majkrzak said. "He's one of the two or three guys who should be up for Player of the Year. We wanted to make sure the other (LSSU) guys couldn't go, and we did that, but how tough are you to go 16-of-35? 42 ponts on 35 shots and only two turnovers? He was absolutely incredible."

Kerr dominated the overtime. He had a booming blocked shot at one end, and nailed the "and-one" basket at the other end that sealed the deal for the 'Cats. Kerr had 17 points and 14 rebounds as he battled foul trouble of his own at the end.


"Very physical," Kerr said. "They were definitely trying to take me away from getting seals. For the most part, they were doing a pretty good job, even their small guys were sratching and clawing at me (literally), trying to not give me the ball. I mean, it was just a really physical game and I'm just glad how it ended."

One of the X-factors was the play of freshman point guard Bryan Parzych. He had to take over the role in the second half when Justin Brookens suffered what appeared to be a serious ankle injury. Brookens left after making two huge triples in the second half to give NMU some cushion after one of LSSU's runs, and he was on crutches from there.

Parzych said he knew he had to set up and he did, sccoring eleven points, getting six assists and six rebounds, and most importantly, turning the ball over just one time in nearly 30 minutes of play (29:34).

"It's funny because at film, he (Majkrzak) called me, Carson Smith, and Justin Kuehl out, and he calls us the 'energy group' and he thought the past weekend, we didn't play that well," Parzych said. "I mean, winner-g0-home game today. If you don't bring energy, you don't really deserve to be on the court."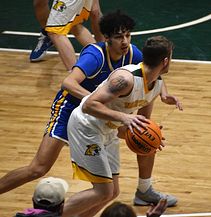 Parzych took the reins from Brookens through a rough second half and overtime, and kept his head. He says he was ready for the chall;enge.

"Coach Wallrapp (Assistant Charlie) told me last weekend, I'm used to playing 12-to-15 minutes a game," Parzych said. "He said, one of these games, we're gonna need you to play 25, 30 minutes and step up big. I guess that was tonight in the first round of a conference tournament game!"

In the first half, Nick Wagner was on fire for NMU, scoriing 20 points on four three-point baskets, and old-fashioned "and-one" basket and foul, and making three free throws after being fouled while shooting a triple. Wagner ended up with 22 points,

Carson Smith added 14 points for the Wildcats, who move to the GLIAC semifinals against Michigan Tech Saturday at 12:00 noon against the Huskies. Tech is hosting the tournament now after shaking off a halftime defcit against Wisconsin-Parkside to post a 66-53 win, combined with Davenport's shocking 91-90 win over top-seeded Ferris State.

"We lost two super-close ones to them this year," Parzych said. "It's hard to beat a good team three times, and so I think we're a really good team. Eight (wins) in a row. I'm pretty confident in our guys. I think we've got a really good shot."

"Excited to get Tech a third time," Majkrzak said. "We lost two to them. They're very good. Let's see what we can do!"