END OF THE LINE: Norse Fall In Regional Semis

Click the thumbnails for photos and videos from the game, as well as from Gogebic's loss to Bottineau. Also click the AUDIO buttons to hear post-game comments from Norse Coach Matt Johnson, and for Justin Nelson's player spotlight interview.

BISMARCK, N,D,---The Bay College Norse men's basketball team fell behind by double digits in the first half and could not recover, losing to the United Tribes (N.D.) Thunderbirds, 90-68, in the NJCAA Region 13 semifinals Saturday evening in Bismarck, N.D.


"It's tough when you dig that deep of a hole," Norse Coach Matt Johnson said of his team's start. "We didn't play very well offensively in the first half and we struggled to put the ball in the hole. We had great looks, I thought, but we missed six or seven point blank right-at-the-rim baskets."

The Norse had the lead only one time, when Justin Nelson scored the first basket of the game. The Thunderbirds scored the Norse, 12-3, over the next five minutes, taking a 12-5 lead, and expanded that lead to 24-13 before Ashton Janke scored on a putback to cut the deficit back into single digits.

But UCTC went on a 10-0 run, with DK Middleton and Charles Schrader both scoring twice to build a 34-15 lead. The Norse responded with eight straight points, with Gavin Gothard and Joc Overstreet hitting back-to-back triples, but the Norse still trailed at halftime, 36-23.

The second half was an uphill battle, as the Thunderbirds got a 21-point lead at 54-33 as Middleton and Tahj Two Bulls kept scoring inside.

Bay got strong second halves from Lamar Grayson and Jaylen Flaniken to make a run at it. Neither of them had a basket in the first half, but both had 17 points in the second half.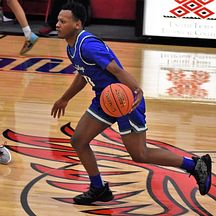 Grayson scored an "and-one" basket to bring Bay to within 76-66 with 3:34 left, and the Norse got a turnover, setting up Overstreet for a wide-open triple try. It was short off the rim, and UCTC came down and got an "and-one" basket by Middleton off of a baseline drive.

The Thunderbirds outscored the Norse, 14-2, to end the game.

"We just got too far behind," Johnson said. "We battled. Like we have all year, the kids worked their butts off. It wasn't an effort thing. We just didn't finish the shots we needed to finish. We didn't execute on the defensive end like we needed to. United Tribes is a really good basketball team and they made us pay."

Middleton led all scorers with 25 points on 10-of-20 shooting from the floor. He added eight rebounds. Two Bulls had 23 points on 11-of-14 shooting, and he had ten boards. UCTC improved to 17-11 on the season.

Bay got 18 points from Grayson and 17 from Flaniken. Overstreet and Tre Burris both finished with nine points and five rebounds.

The Norse finish their season with a 16-12 record.


"I think it showed what our weaknesses are," Johnson said. "It's physicality and being able to fight through contact. This off-season for our guys is going to be really big. We've got to get in the weight room and get bigger and stronger, and a little bit more explosive."

The Upper Peninsula's other team, Gogebic Community College, had a 21-point lead slip away and lost in overtime to Dakota Bottineau, 88-81.

Deron McDaniel scored 26 points and Surafel Berhane added 21 for Bottineau, including a contested one-handed triple that forced overtime.

GCC was led by Trevon Clark's 18 points and Elijah Owens added 17. Christian Hoking contributed 16 points for the Samsons.

Bottineau lost to Dakota County Technical College, 101-64, in Saturday night's second semifinal. UCTC and DCTC play in the regional championship game on Sunday.