Norse Men Can't Keep Up With 12th-Ranked Triton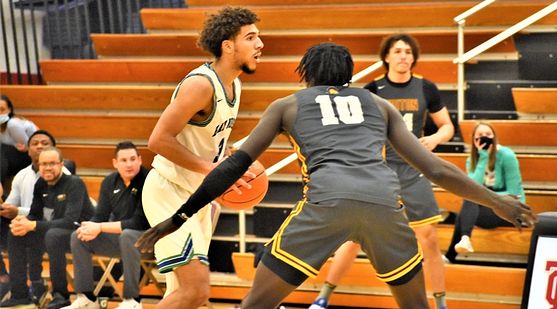 Click the thumbnails to see photos and videos, and listen to post-game comments from Coach Matt Johnson. Also hear Jaylen Flaniken's player spotlight interview.

RIVER GROVE, Ill.---The Bay College Norse men's basketball team played their toughest opponent on Saturday, and couldn't match the talent and athleticism of the Triton College Trojans, losing, 115-69, in suburban Chicago.

The Trojans, ranked 12th in the nation in NJCAA Division One, led from start to finish. Triton boasts several NCAA-Division One recruits, as well as a few others who played at the NCAA level and transferred to Triton over the past two years.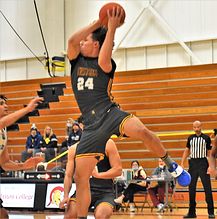 On Saturday, Triton made 20 three-point baskets and they outrebounded the Norse, 50-29. The Trojans had eight different players score in double figures, by far the deepest roster the Norse have faced in the five-year history of its program. Bay is a NJCAA Division Two team.

"They were beating us by 17 at halftime (47-30), so they were in control the entire time, but it was that last six, eight, ten minutes where they started hitting everything that they threw up," Bay College Coach Matt Johnson said. "We all of a sudden started giving them much more wide-open looks. That killed us. In my opinion, it was a much closer game than what 115-69, but when you give up 68 points in a half, that's going to happen."

Triton (22-3) jumped to a 25-11 lead as Brandon Muntu hit three triples and scored 13 first haff points. He finished with 19 points and five triples.

The Norse got inspired play from Tre Burris, who led the team with 17 points and eight rebounds. He attacked the rim throughout the game, and also made five of nine free throws.

"He looked like he belonged out there with those guys," Johnson said. "He was probably the only one that kind of played with that swaggor, that attictude that you need to have against a team like this. He didn't back down. He didn't olay scared. He wasn't timid."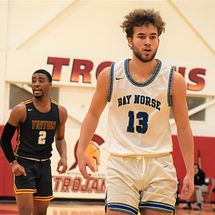 Gavin Gothard played 16 strong minutes, contributing four points and an assist.

"He did some really nice things for us," Johnson said. "He did a really good job defensively. He was a bright spot for us, for sure. Gavin's going to help us in this stretch run here. I don't doubt that for a second. He's been doing a really nice job for us at practice. And I epect that he is going to have a good end of the year for us."

But Triton was just too good. Besides Muntu, Pat Suemnick, who will play at the University of West Virginia nect fall, had 14 points and six rebounds.

Cam Denson, who came to Triton from California, had 16 points and eight rebounds. Cobie Montgomery, who hails from Louisville, Kentucky, had 13 points, including three triples. Another Louisville boy, JJ Kalakon, added eleven points.

Triton made an incredible 20 of 35 three-point shot attempts, including seven straight at one point in the second half.

Bay College, besides Burris's 17 points, got 14 points from Jaylen Flaniken, and Justin Nelson chipped in eleven points. Lamar Grayson had ten points.

The Norse fell to 16-10 on the season. They will be back in action on Tuesday afternoon in Oshkosh, Wis., for a neutral site game agaisnt Bryant & Stratton College. The Bobcats are 15-11 on the season after winning at Dakota County (Minn.) Technical College last Wednesday. The Bobcats beat Bay in a tight game last month in Escanaba, 76-70.

Tuesday's game will be played at the Menominee Nation Arena, a 4,200-seat arena that is home to the Wisconsin Herd NBA "G League" team, which is affiliated with the Milwaukee Bucks. The Norse-Bobcats game is set to start at 3:00 ET/2:00 CT on Tuesday.