BOUNCING BACK: Norse Overpower Lake County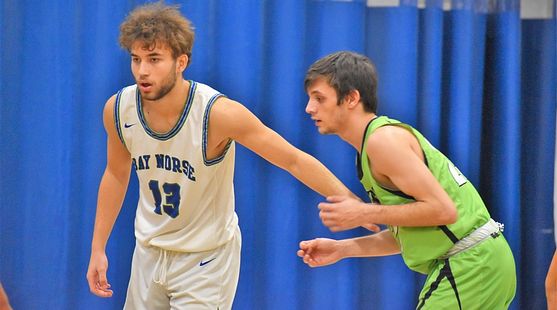 Click the thumbnails to see photos and videos. and hear post-game comments from Lamar Grayson and Coach Matt Johnson. Also hear Justin Nelson's player spotlight interview.

GRAYSLAKE, Ill.---The Bay College Norse men's basketball team bounced back from Wednesday's tough loss by picking up a road win late Friday night, 78-56, over the College of Lake County in northern Illinois.

It was the first-ever meeting between the two programs in basketball, and it was a much-needed win after a disappointing loss to Gogebic Community College in Wednesday night's game in Escanaba.


Norse Coach Matt Johnson was happy with the win, but was irritated by the lull the team fell into after jumping to an early eleven-point lead. The Lancers were able to rally and tie the game at 21-21 before the Norse picked it up again, finishing the first half on a 15-6 spurt to take a 36-27 lead at halftime.

"I didn't get on them at all in the locker room, I just went in there and stated the obvious," Johnson said. "We were up eleven, took our foot off the gas pedal, let them hang around. I just challenged them because it's all on them. They responded. You've got to play with some heart. I think that's the biggest thing."

The Norse rolled in the second half, with Marcus Harris draining two very long triples, and Joc Overstreet nailing three triples of his own. A sweet play toward the end saw Davin Hill dish a dime to Jahlani Thornton for a highlight reel basket.

Lamar Grayson led the Norse with 21 points on 8-of-15 shooting from the floor.

"I feel like we came out and played a little bit harder," Grayson said. "That's all we needed to do. Just come out and work hard. We knew that this team really couldn't hang with us, but we had to do the little things to beat them."

And as for his shot?


"I felt pretty good," Grayson said. "Once I saw the first one go in, I felt pretty confident."

Jaylen Flaniken was good as well, scoring 15 points and adding seven rebounds. Overstreet had 13 points, and Justin Nelson ended up with ten points and eight rebounds. He had a slam dunk and a three-point shot.

Lake County fell to 2-20 on the season. They got 19 points from Simeon Henton before he fouled out with six minutes to play. Allister Richardson had 17 points and Quinton Teagues added ten points.

Bay outrebounded Lake County, 37-20. The Norse shot 51 percent from the floor, including 56-percent in the second half.

The Norse improved to 16-9 on the season. They face a monumental task Saturday afternoon when they travel down the tollway to Triton College, to face the 12th ranked team in Division One, the 21-3 Trojans.

"Triton has three guys who are signed to major (NCAA) Division One scholarships next year," Johnson said. "It's gonna be a heckuva challenge for our guys. We'll see if we're willing to compete with the big dogs."

Game time is 4:00 ET/3:00 CT as the Norse wrap up the road trip.