Big Gogebic Samsons Rally Stuns Bay College, 61-56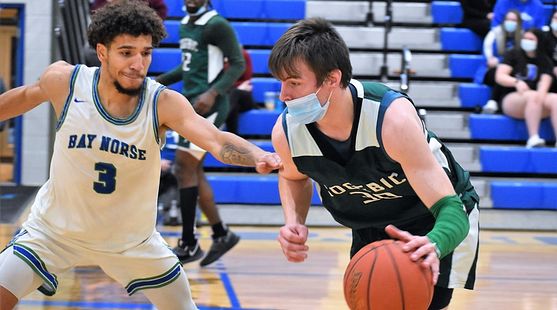 Click the thumbnails to see photos and videos. Also click the AUDIO buttons to hear post-game comments from both coaches, GCC's Chirisian Hocking, and listen to Ashton Janke's player spotlight interview.

ESCANABA---The Gogebic Community College Samsons rallied from a 17-point deficit to stun the Bay College Norse, 61-56, in men's basketball action Wednesday night in Escanaba. It was GCC's first-ever win over the Norse in Escanaba.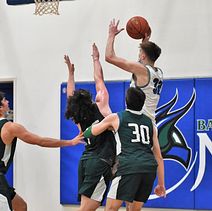 "We didn't execute and we played really, really bad," Norse Coach Matt Johnson said. "They made a couple of plays down the stretch. It's embarrassing. Probably the worst loss since we had the program back (from the 1970's). They were better and we were worse. The scoreborard is the only number that counts, and they've got five points more than us."

"For me, personally, it's the first time I've won here, so that means a lot to me," longtime GCC Coach Dennis Mackey said. "This is a very good program here at Bay College. For us to just compete with this team is good. To come here, and somehow find a way, I mean, Bay's got some very nice players."

"They had some shots at the end that didn't go in, we made ours, and that was the difference in the game."

Early on, it looked like so many of the previous Bay-GCC games, as the Norse raced to a 26-9 lead.

Tre Burris had a couple of baskets and four free throws, Joc Overstreet nailed a triple at the end of a shot clock and scored inside, Lamar Grayson had three baskets driving to the cup.

Justin Nelson scored inside and made a couple of free throws, Davin Hill was 4-for-4 at the line, Jahlani Thornton got an "and-one" basket, and Ashton Janke continued his comeback with a hoop. And Gogebic's floor general, Marlen Williams, was benched with three fouls.


Still, GCC chipped away at that 26-9 deficit, getting to within 34-24 at the half as Trevon Clark scored four baskets and Donald Davis III nailed a three and a two-pointer.

And when Williams got his fourth foul early in the seconfd half, it looked like the Norse would rock and roll. But that did not happen.

The Samsons cut to within 34-31 before center Justin Nelson drained a triple from the left corner to give Bay a 37-31 lead. A Grayson basket made it 39-31, but the Samsons came back again on a triple by Christian Hocking to close to within 41-36.

Nelson's slam dunk off a no-look pass from Burris seemed to turn the momentum, but Hocking hit another three and Elijah Owens scored the old-fashioned three-point play to bring GCC to within 52-50.

The Norse took a 54-50 lead on a Janke basket, and led 56-52 after Grayson scored again. But the Samsons brought Williams back in, and he keyed the 9-0 run that proved decisive for the Samsons.

Williams drained a triple to cut it to 56-55, then in the final 45 secons, Clark drove inside, spun, and scored, to give the Samsons at 57-56 lead. After Burris came down and missed an open triple, Williams went to the line and sank two free throws to make it 59-56.


Bay had one last chance when the Samsons missed a free throw, but Yohance London stole the ball as the Norse were driving up court. His two free throws sealed it at 61-56.

Clark led the Samsons with 16 points and 11 rebounds, while London had nine points and six boards. Owens contributed nine points as Gogebic improved to 15-8 on the season, the best record in years for the Samsons.

The Norse got 13 points from Burris, ten from Grayson, and nine from Nelson.

Bay fell to 15-9 and will try to pick up the pieces with games this weekend in Illinois: on Friday, against the College of Lake County, and on Saturday against nationally-ranked Triton College.

"It doesn't get any easier,"Johnson said. "We either respond, or we throw in the towel."

Game time Friday night is 8:30 ET., and Saturday's game starts at 4:00 ET.

GCC will be at home for another regional seeding game Saturday against Dakota County (Minn.) Technical College.