Bay College Men Blow Past LSSU Jr. Lakers, 112-76

Click the thumbnails for photos and videos. Also click the AUDIO buttons for comments from Gavin Gothard and Coach Matt Johnson.

SAULT STE. MARIE---The Bay College Norse men's basketball team overcame some hot three-point shooting from the Lake Superior State University Junior Lakers Monday night, pulling away for a 112-76 win at the Bud Cooper Gymnasium.

The Norse had beat the junior Lakers by 99 points earlier this season in Escanaba, but LSSU had three members of its varsity team in the line-up for this one.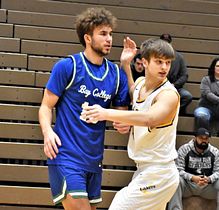 Two of them, Blake Cassidy and Ben Patrick, both knocked down three-pointer after three-pointer, especially in the first half, as the junior Lakers stayed within 52-41 at halftime.

Cassidy had five triples in the first half, and Patrick had two (plus two long two-point jumpers).

But Bay had more than enough offense, routinely attacking the rim and dominating in the rebounding department. Lamar Grayson and Jaylen Flaniken both had eight points in that first half, and Justin Nelson had ten points (including two slam dunks).

In the second half, the Norse started "face-guarding" Cassidy and Patrick, which slowed down their scoring. They both ended up with 22 points for the game.

Norse Coach Matt Johnson substituted freely in the second half, and all 14 Norse players on the active roster scored at least two points.

Davin Hill made three triples in the second half, including a very deep one near the volleyball line. He had 11 points. Aloung Kang was a beast inside, scoring ten points in the second half alone.


Marcus Harris, playing 15 minutes from his hometown of Brimley, scored eight points. Tre Burris chipped in with nine points, plus a sweet blocked shot on defense that negated a Cassidy breakaway dunk attempt.

LSSU got ten points from Jayden Perry but the junior Lakers, playing just their third game of the season (0-3) couldn't keep up.

The Norse (14-8) got five players in double figures in scoring: Joc Overstreet, Nelson, and Kang all scored 14 points. Flaniken chipped in 13 points while Hill and Lamar Grayson both contributed eleven.

For LSSU, besides Cassidy and Patrick's 22 points apiece, Perry had 12 and Neil O'Brien scored eight before fouling out.

Bay College will play on the road again Saturday at 3:00 against Alpena Community College, before playing their final regular season home game next Wednesday against Gogebic Community College at 6:00.