Norse Men Shake Off Rust, Outlast Finlandia, 71-67

Click the thumbnails to see photos and videos, and hear postgame comments from Jaylen Flaniken and Coach Matt Johnson. Also lsiten to Davin Hill's player spotlight interview.

HANCOCK---The Bay College men's basketball team returned from a two-week break with a tough game against the Finlandia University Lions in the Copper Country on Saturday. The Norse shook off the rust, and a very loud FinnU student section, to post a 71-67 win at the Nurmi Center.

The Norse had the lead for most of the way, but never by more than two or three possessions. And they hurt themselves by missing 15 of the first 18 free throws they attempted in the second half.


But Tre Burris and Dewayne Thompson both calmy sank a pair of free throws in the final seconds and the Norse survived with a grind-it-out victory.

"A win's a win," Norse Coach Matt Johnson said. "An ugly win is so much more enjoyable than a pretty loss. We didn't play particularly well. We were definitely rusty. I didn't think we played with enough energy. But we got a win. Finlandia gave us everything we could handle. They played well, they really did."

Jaylen Flaniken scored 13 of his game-high 19 points in the second half, routinely attacking the basket and accepting nice passes from Davin Hill, who was playing just down the street from his hometown. Hill had five assists.

"It was intense, man," Flaniken said of the of the noisy, non-stop bleacher-smacking FinnU student section. "We didn't expect that to be the way it was. But in the second half, we came out and played a little better, but we've got to do a lot better. So, it's a little disappointing. It was the most intense game we've played in. I love intense crowds."

Flaniken says he needs to listen more to his mother.

"The first half, I was disappointed in myself," he said. "I was irritated with how I was playing and I'm tired of playing sluggish every first half. My mom tries to tell me to come out and play like I play in the second half, and play that way in the first half."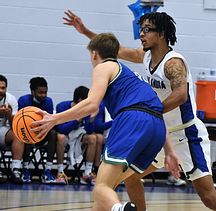 Bay led, 29-26, at halftime, and the second half was just as tight.

The Lions got 16 points and 11 rebounds from Rae'Quan Funches, including a slam dunk early in the second half that gave his team a 32-31 lead. He scored 14 of his 16 points in that second half.

But Justin Nelson scored five straight points for the Norse to put Bay back in front, and he ended up scoring nine of his ten points in the second half.

It was back-and-forth in the second half, with the Norse opening up a 44-36 lead after baskets by Nelson and Flaniken. The Lions got to within 50-47 as big man Trace Jones knocked down a triple and scored one inside. He eventually fouled out with eleven points and seven rebounds.

Marcus Harris came off the bench to sink a long triple to give Bay a 53-47 lead. But the Norse kept missing free throws, and B.J. Williams and Taaj Thomas both scored inside, and it was tight all the way to the end.

With Bay clinging to a 60-57 lead, Flaniken attacked the rim scored a sweet basket. And then after two free throws the other way, Flaniken made a nice dish to Aloung Kang for the bucket to make it 64-59. Kang finished with 13 points and eight rebounds for the Norse.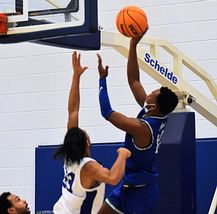 Lamar Grayson, who like Thompson had been out of the lineup for weeks, came through with the dagger on a driving bank-shot layup to make it 66-61 with 1:36 left. The Norse were able to keep that small lead down the stretch.

It was a homecoming for three Norse players: Hill, who literally grew up down the street in Hancock from this gym. He did not score, but had a team-high five assists, three steals, and four rebounds.

Dollar Bay graduate Ashton Janke returned to the lineup after missing the past two months, and scored an and-one basket in his two minutes of play just days after getting cleared.

Brevin Antilla of Calumet also got two minutes of playing time, and collected one rebound.
Neither team could consistently knock down triples, as FinnU was 3-for-23 from behind the long arch and the Norse made only 2-of-13.

Finlandia fell to 2-19 on the season. Bay College improved to 13-8.

The Norse will be on the road again Tuesday night at 8:00 against the Lake Superior State University Junior Lakers in Sault Ste. Marie, and then will travel to Alpena Community College Saturday afternoon at 3:00.