SO CLOSE! Norse Men Nearly Upset No. 1 Bulldogs

Click the thumbnails to see photos and videos, hear post-game comments from Joc Overstreet and Coach Matt Johnson, and listen to Marcus Harris' player spotlight interview.

ESCANABA---The Bay College men's basketball team nearly stunned the NJCAA Basketball world on Saturday, leading the top-ranked team in the country before falling in the end, 74-60, to the South Suburban (Ill.) Bulldogs.

The Norse led for much of the game, and trailed by just three points with 3:00 left. But the Bulldogs showed why they are undefeated and top-ranked, as they fought through their shooting woes to make clutch three-pointers and free throws to pull away at the end.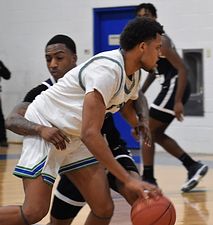 Bay had just eight players available, and one of them did not play. But the Norse went toe-to-toe with a team that was averaging over 90 points a game, holding them to 22 in the first half.

"We battled, and it was fun to watch when we play that hard," Norse Coach Matt Johnson said. "I know it ended up a little bit lopsided at 14, but it was not a 14-point game. We were down single digits, with the ball, and 1:45 to go and we had to foul and they hit a couple of shots. It was a heck of an effort for our guys and they continue to work hard. It's a mental breakdown or two late, and teams like this will make you pay. Our guys left it out on the floor, that's for sure."

Bay led at halftime, 27-22, after falling behind early, 6-1 and 14-9. The Bulldogs shot miserably from the floor and were disrupted by the 1-3-1 zone defense employed by the Norse. And on offense, Marcus Harris and Joc Overstreet both knocked down two triples, amd Tre Burris had an "and-one" as the Norse rode a wave of emotion into the halftime break.

South Suburban scored the first seven points of the second half, including a triple by Nmesomachi Nnebedum, to take a 29-27 lead. But Bay had the answer as Harris drained another triple, Aloung Kang scored an "and-one" basket, Gavin Gothard scored on a baseline pass from Overstreet, and then Overstreet had a steal and a driving lay-up.

The Norse completed a 15-3 run with an athletic play by Burris, who jumped high into the air to steal a pass, drove inside, and scored, giving Bay an improbable 42-32 lead with 13:43 left in the second half. An upset Bulldog Coach John Pigatti called a time out to chew out his team.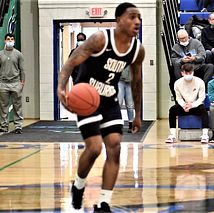 "We had to play together," Overstreet said. "We weren't going to win this game playing one-on-one basketball. We all had to come together. I feel that, as a whole, we're all coming together. We're all knowing our spots, knowing our roles. Just competing. Nothing is guaranteed. Nothing is promised. When we walk into the gym every day, we've all got to compete and make each other better. We've got a small team and we're all pushing each other."

The Bulldogs, however, showed why they're undefeated and ranked No. 1 in the country. Nnebedum nailed two triples to key an 8-0 run, but the Norse got another triple from Harris with 8:56 left on the clock to give Bay a 50-47 lead,

Nnebedum responded with two more three-pointers, and Nuri Knighten scored twice, to put South Suburban ahead 58-52. Gothard sank a triple to bring Bay to within 58-55 with less than four minutes left, but Demarco Minor shook off a rough shooting night to nail back-to-back three-pointers to help South Suburban take a 65-55 lead with 2:15 to play.

Overstreet drained another three to bring Bay to within 65-58, and Harris made a pair of free throws to make ita 65-60 game with 1:41 left. The Bulldogs scored the final nine points of the game, seven of them at the free throw line, to pull away for the 14-point win.

"We had them on the ropes," Johnson said. "We had the number one team in the country on the ropes with a chance to win. We just need to execute a little bit more and be a little more tough mentally to finish these out. We showed we can compete with literally anybody."

South Suburban (15-0) got 20 points and 11 rebounds from Minor, 17 points from Nnebedum, and 14 points from Cam Donathlan.

Bay College (12-8) was led by Overstreet's 17 points, with Harris adding 16 and Burris chipping in 13 points along with six boards. Gothard contributed 11 points and five rebounds.

The Norse, unless games are added to the schedule are added this week, will play their next game at home on Monday, Jan. 24, against Dakota County Technical College. That is a pivitol regional seeding game for both teams. Tip-off is set for 7:00 in Escanaba.